Are you working through the holidays this year? Laboring through Christmas or New Year's Eve? Braving the cold to take on shifts on the days in between, while people outside healthcare are enjoying a comfy few days off?
Hey, we're nurses — someone's gotta do it! As nurse blogger Deb Aston once put it: "We reschedule the time that we can spend with our own family so that we can take care of yours."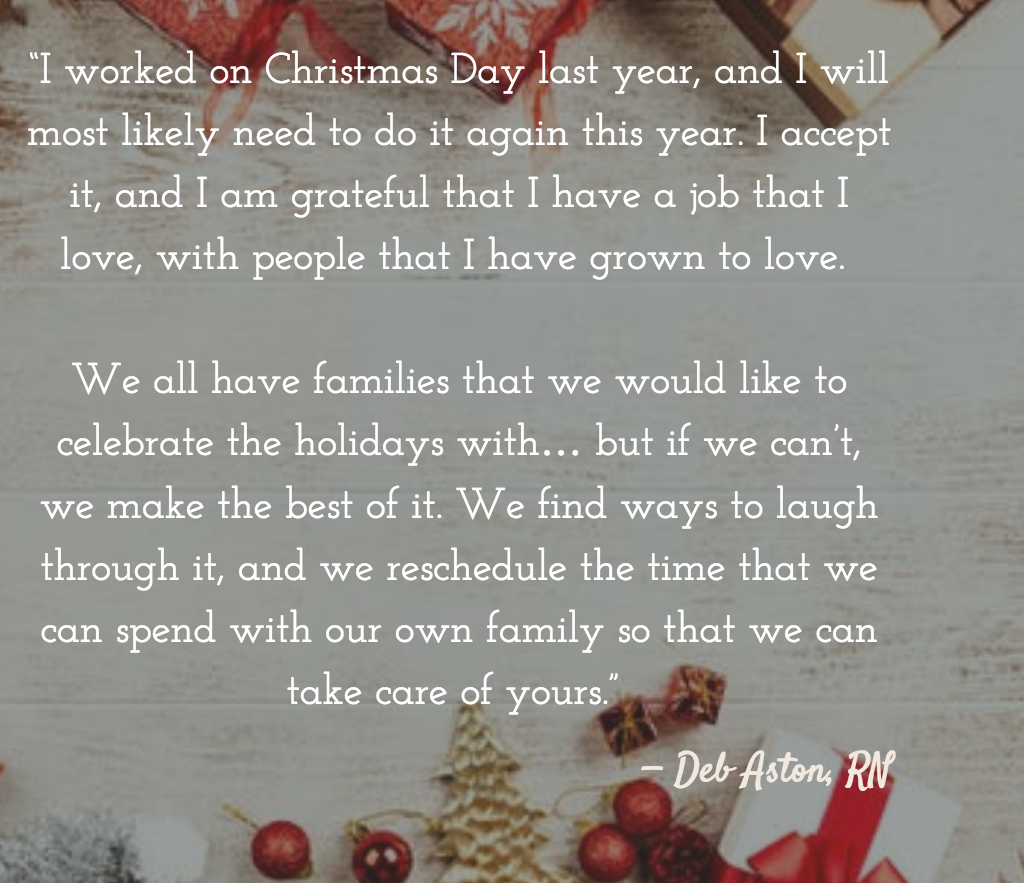 It can be a bit lonely, though — working when everyone else is celebrating! And it would be great if people could try not to get themselves in all kinds of trouble during the festivities and end up in the ER…
So to get you through these shifts, we have a special nurse photo contest to provide you with a little extra motivation! Each individual winner will receive $100, and if there are three or more of you in a winning photo we'll give you $500 to share.
So send us a picture of you or your team! It doesn't have to be all Christmassy, so don't feel any pressure to style your hair into a giant Christmas tree or anything, ha! Just show yourself as you are, a nurse doing what they have to do, because it's our job and we are happy to take on the responsibility.
(Well, perhaps not quite always happy, but… we do it anyway!)
If you're looking for a fun idea to make your photo stand out, here's one we thought of: what's your favorite nursing quote? What do you remind yourself of when you're in need of inspiration, to be able to keep keeping on? Write it on a piece of paper, put it on the whiteboard, whatever's easiest for you; and take a picture of yourself or yourselves with it!
Don't fret, though, you don't have to get fussy. You are quite enough, just the way you are! So send in whatever kind of picture you feel happiest with, because we might pick multiple winners!
Simply drag and drop your photo(s) into our photo contest web form. Or email them to contest@nurserecruiter.com. Or message us your photos on Facebook, Instagram or Twitter. Again, whatever's most convenient for you! We will publish winning entries on our blog and our social media accounts, and we might share some of the runners-up as well… if we get enough entries, of course!
Check out some of our past photo contest winners!
This is just a selection of the people who have won our photo contests over the years; you can find even more by using the search box on our blog homepage. So many great nurses have participated in our contests, and we have been especially happy to see the full breadth of the nursing profession represented in the entries we received. Looking forward to see yours!
The small print
No entry fee is necessary to participate or win. The contest is void where prohibited by law, regulation, statute or other appropriate legal authority.
Send in as many entries as you like – there is no limit!
The winning photos will be selected by NurseRecruiter.
Contest winners with photos of 1-2 people will receive $100. Group winners will receive $500.
Contestants grant NurseRecruiter a worldwide, perpetual and non-exclusive royalty-free license to reproduce and publish each submitted story/comment and photo in any medium, including promotional material and advertisements.
Employees, agents, contractors and owners of NurseRecruiter and their immediate relatives and household members are not eligible to enter or win.