Do you know anyone who wants to be a nurse? You can help them! Tell them about the brand new NurseRecuiter.com Scholarship.
NurseRecruiter.com has been in the business of connecting nurses with jobs across the US for eighteen years. There is never a lack of nursing jobs, and of course that has benefited our business too! But we are well aware of the impact of the nursing shortage on nurses and patients in America, and that's why we decided to do something in return.
We are proud to commit an initial $10,000 in funds for NurseRecuiter.com Scholarships. Now we need your support in finding motivated, talented future nurses who want to join the profession, but are struggling with costs. Maybe you know an aspiring nurse who would love to know about this opportunity, or maybe your friends do. So tell the people you know about our scholarship, and share the news on your Facebook or Twitter account!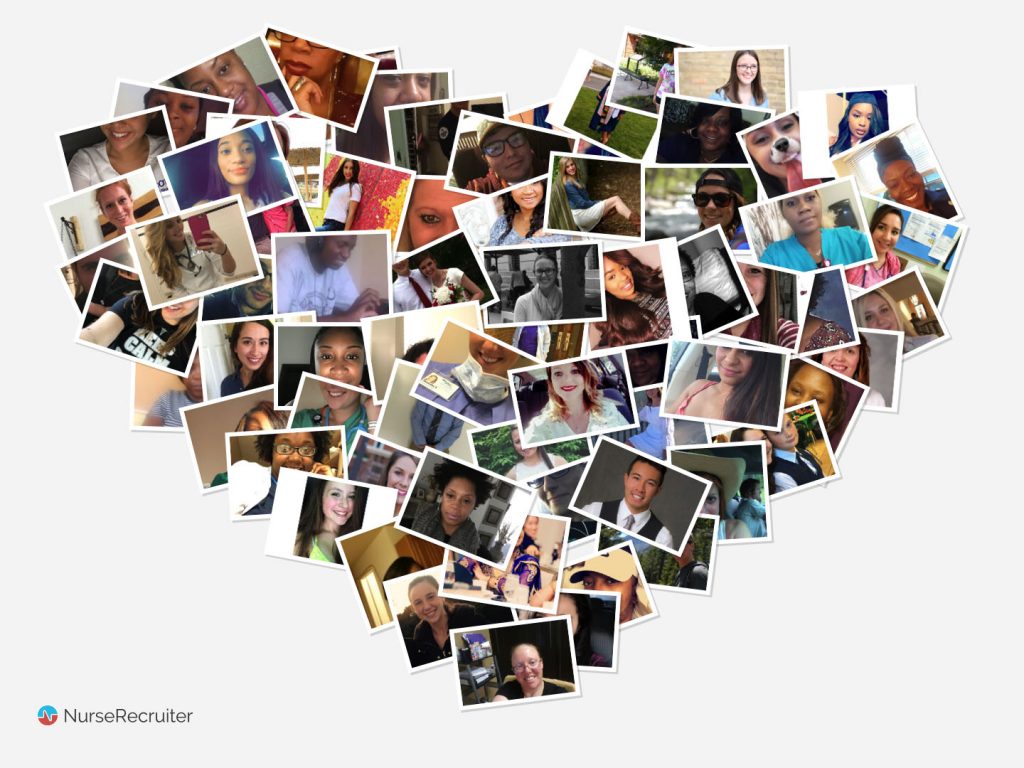 Five reasons to tell future nurses about our scholarship:
1. Help them alleviate the nursing shortage
Every year, the U.S. needs more and more nurses. The number of Registered Nurses is projected to grow by 16% in a decade — more than twice as fast as total employment. In the course of a decade, over a million job openings for RNs will need to be filled! There has been a surge in nursing school graduates, but many states still face a shortfall, especially in the South and West. The longer those shortfalls aren't addressed, the more patients will fail to receive adequate care and nurses will be left overworked and overwhelmed.
We know that our scholarships will be just a drop in the ocean in solving the problem… But it's what we can do, and we can only hope that every healthcare company follows our example!
2. Help them gain access to secure, well-paying jobs
Let's not beat about the bush: in a labor market that's ever more characterized by flexibility and instability, Registered Nurses enjoy good wages and great job security. Median wages for registered nurses stand at around $67,000, reaching over $100,000 in California. The unemployment rate for RNs tends to be as low as 2%.
Acquiring your nursing degree takes a lot of skill and determination, but it pays off! And when it comes to finding the best jobs after graduation, having been selected for a scholarship is definitely a plus for your resume.
3. Help them find fulfilling, meaningful work
As reassuring as the prospect of secure, well-paying employment is, it's not what's most special about being a nurse. When Registered Nurses were asked last year what the single most rewarding aspect of their job was, very few opted for the amount of money they made.
Instead, roughly equal shares of them described it as working at a job they liked, being very good at what they did, pride in being a nurse, and their relationships with grateful patients. Who wouldn't want someone to succeed in their path to a career like that?
4. Help them avoid crippling student debt
College tuition has ballooned by almost 400% in the past thirty years, and college graduates owe an average $30,000, discouraging many young Americans from enrolling at all. The cost of a nursing degree can rise to as much as $118,000. When the country is already facing a nursing shortage and it is more important than ever for nurses to acquire an advanced degree, anything that can help lessen the looming burden of student debt is a win for everyone!
5. Encourage underrepresented groups to enter nursing
Do you know male nursing students or aspiring nurses from minority groups? At the moment, men make up barely over one in ten Registered Nurses. The number of male nurses is growing steadily, but their underrepresentation has a long history and complex reasons.
It's not just men: data about currently employed RNs and nursing students show that Hispanic and Latino Americans are also not finding their way into nursing by anywhere the numbers you'd expect. So if you know any talented male or Hispanic nursing students who could be greatly helped by a scholarship, why not encourage them to check out ours?