"What makes a nurse not only a good nurse but a hero?" That's the key question Courtney Butler raised after we called for your nursing superhero stories. What would your answer be?
We present two more examples here. Courtney knows who hers is: Cindy Varra, a Registered Nurse in Colorado. Kiuarna Summers wrote in to explain why Kimberly Jenkins, an RN at the Medical University of South Carolina, is the nurse she admires most. Both of them won a Super RN t-shirt from our brand new Nurse Swag site!
Cindy Varra
"Most, if not all, nurses are heroes in my eyes," Courtney told us. She's right! Nevertheless, Cindy stands out:
Not only is she the most caring and comforting nurse, she knows exactly what to do and when to do it. She thinks outside the box, and is never afraid to ask for help or assistance from another nurse or doctor if there might be any doubt in a situation. Cindy puts the patients first and the family's right up there with the patients.
Cindy is a Registered Nurse First Assistant and "has dipped her hands in many different areas of nursing", Courtney explained, "but her passion lies with moms, babies and their friends and families":
You will see Cindy assisting in delivering the those babies where there might be an emergency, when the mother chooses to have a cesarean or the expectant mothers are unable to deliver their babies vaginally. Cindy not only works her normal 12 hour shifts but is also on call, anytime day or night, to help her patients and the medical staff.
Courtney's closing words are perfect for this blog post:
What's the definition of a hero? Well, nurses! What makes one nurse stand out above any beyond? The passion to take care of others while still taking care of their own family and loving every minute of it. That is the definition of my hero, Cindy Varra! Thank you for giving me this opportunity to tell you and everyone else about my hero.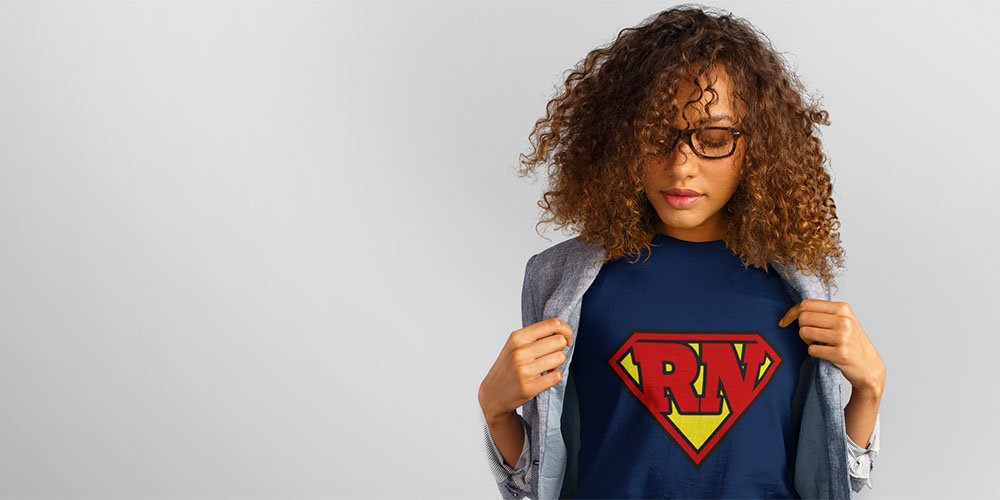 Our SuperRN t-shirt is available in in black, white, or blue — but "any color" will do, Courtney Butler wrote us when we gifted a free t-shirt to the nurse she nominated: "the best part is the hero symbol!!"
Kimberly Jenkins
For Kiuarna Summers, her friend Kimberly Jenkins is a true nursing superhero:
Kimberly Jenkins is my favorite and most admired nurse. She was recently promoted and she is so efficient at her job. It is 100 percent clear that she genuinely cares about her patients.

I admire her ability to work with the geriatrics group. She has also signed up with her church as a nurse to assist if there's any kind of emergency. She is just one semester from completing her MSN degree. I am so proud of her and her willingness to give back to the community.

Kim is a great friend of mine, and oftentimes I have a question – or four – I ask her. When I was recently sick with strep throat and prescribed about four different medicines, she took the time to explain what they are to me, the importance of finishing all of them, and the possible side effects. She called to check up on me, and she let me know she was only a phone call away.

She may not be your choice, but she's the perfect choice to me.
No worries there – sounds like our kind of choice too!
Read the other nursing superhero stories we featured!