We recently announced that we have teamed up with the Safe Passage Foundation to expand the NurseRecruiter.com Scholarship program, and provide nursing scholarships to people who survived a childhood in cults that routinely violated their basic human rights.
We would like to introduce you to one of those people: an extraordinary nurse who was born and raised in a religious cult known as The Family. Notable former members of The Family, also known as the Children of God, include former Fleetwood Mac guitarist Jeremy Spencer. Rose McGowan and Joaquin Phoenix were both raised in The Family.
Andrew is an amazing and extraordinary nurse and nothing would please us more than knowing that our scholarship program might play a small role in helping to bring more people like him into the one of the world's most important and trusted professions.
Meet Andrew Stone, MSN, RN
We interviewed Andrew to learn more about his experiences surviving a childhood in a cult and becoming a nurse.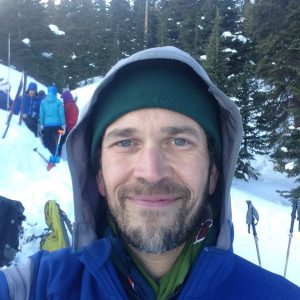 What was it like adjusting to the outside world and getting an education after growing up in The Family?
The hardest part of adjusting to the outside world is the lack of common ground and shared experiences with people who didn't grow up in The Family. When trying to make your way in the outside world it is helpful to remember that the outside world operates under a value system that is radically different than the one that governs The Family. The solution is to engage in human society in order to acquire a track record of experience in the outside world.

Why and how did you decide to become a nurse?
I enlisted in the USAF as a medic when I was 17. This experience convinced me that I wanted to work in the medical field in some capacity. After 7 years of honorable service, I earned a BS in Computer Science and then worked in tech for about five years. I didn't really care for the Monday through Friday grind, though. So I decided to go to nursing school, so I could work 12-hour shifts and have more days off to work on other projects. In 2008 I started the Alternate Entry MSN program at the University of Texas School of Nursing, graduating from this program in 2011.

I have been drawn to medical work my whole life. Growing up in poor countries instilled a desire in me to help the sick. When I got out of The Family I learned that the healthcare field also offers better job security than most fields.
What was your first nursing job?
My first medical job was as a nurse's aide when I was 16. My first job as a Registered Nurse was as a home hospice nurse, providing end of life care to patients in their homes.
What advice would you offer to someone entering nursing school or about to start their first nursing job?
Focus on your development as a professional. Nursing is a process and that process provides guidance in a healthcare system that is filled with competing interests. It is important to develop a robust ethical framework that guides your choices. My chosen ethical framework is secular humanism. Every time I interact with a patient, in any setting, I start by acknowledging their humanity. This simple step can avoid many of the conflicts and misunderstandings that deteriorate the nurse-patient relationship.
Is there anything else you would like to share with us about your experience in the nursing profession?
I am proud to be a member of the most trusted profession in the US. I have had countless opportunities in my nursing work to connect with other humans in mutually beneficial ways. Seeing the world through the lens of nursing has made me a better person, and it has kept me connected to the human condition. At the end of a day's work I feel like I have made a measurable contribution to the wellbeing of my fellow humans.