Now that Pennsylvania has opened its doors to registered nurses with a multistate license, it's suddenly a lot more attractive as a travel nursing destination. But where should you go looking first? We're going to tell you about the best city for travel nurses in Pennsylvania!
There are two things that matter most here. First, where are the jobs? We already figured that some of you will want to take advantage of this new travel nursing opportunity, so we started with looking up where in Pennsylvania we've got the most travel RN jobs on NurseRecruiter right now!
Second, what's the quality of life there? The job market for travelers is still pretty good, which means that many of you can have your pick of travel nursing assignments around the country. So if you're going to go somewhere, you'd better know for sure you're going to feel well there. Is it a place where you can have some fun? Will you be able to relax and take your mind off things on your days off?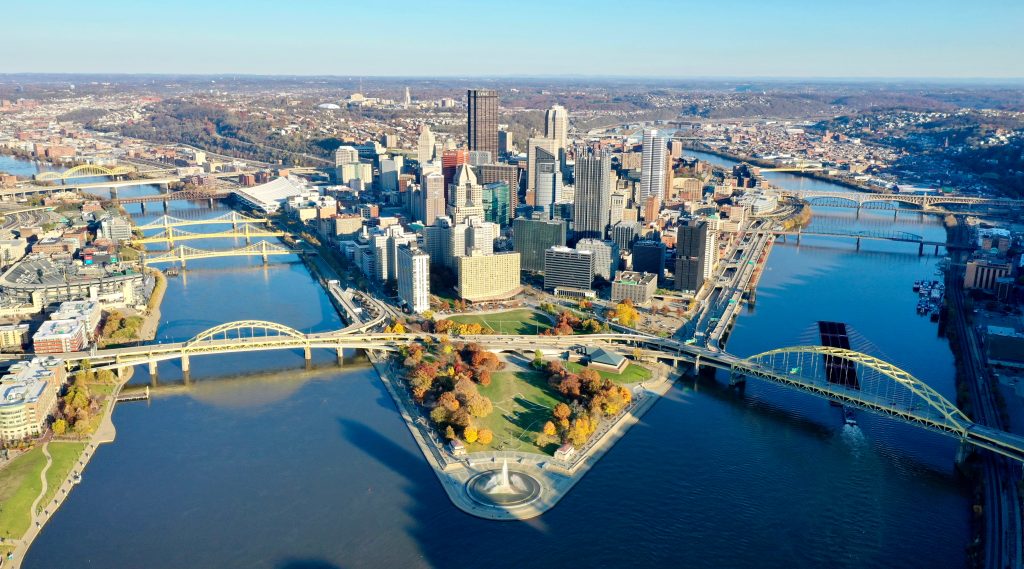 Surprise: it's Pittsburgh!
So where do we have the most travel nursing jobs listed in Pennsylvania? Surprise: it's not Philadelphia, though we've got plenty there as well. It's the City of Bridges! And it's not close either — Pittsburgh is ahead of every other city in the Keystone State by a country mile. And, you know, maybe we shouldn't be so amazed?
If you still associate Pittsburgh with smokestacks or even ever heard it called "Hell with the Lid Off," I'm sorry to say, you're old. The Steel City is experiencing one of the most impressive come-backs of American cities, and is now a "growing mecca for millennials" and a bustling hub of arts, culture and business. It was even ranked third-best city in America to live a few years back, based on affordability, economy, education and health, quality of life, and safety.
---
---
The city has seen major investments by tech companies like Google. It's Robot City now! But the real key to the city's rebound has been a focus on higher education and healthcare — "eds" and "meds". And that means top-notch hospitals like UPMC Presbyterian Shadyside, which ranks second-highest in the state — and, of course, lots of nursing jobs!
In Pittsburgh, you get the career upsides of an urban center, but without the run-away costs of East Coast city life. It was named one of the country's ten most affordable cities this year and has plenty of housing options, so it's a great destination if you're looking to save a healthy amount of the extra dollars you're making as a travel nurse.
You won't have to worry about your days off either! If you were there tonight you could zip up the slope of Mt Washington on the funicular, and marvel at an amazing night view of the city skyline and Pittsburgh's 440 bridges. You could stroll through the historic Strip District, go to the Fall Flower Show at the Phipps Conservatory and Historical Gardens, visit the legendary Warhol Museum, or head out to a game of the Steelers or the Pittsburgh Pirates. Lake Arthur and Seven Springs Mountain Resort are both an hour's drive away; Coopers Rock State Forest barely more.
If you're still up to it after pulling three 12s in a row, Pittsburgh actually has more bars per capita than any other city, and restaurants serve up everything from authentic pierogies to the city's famous Primanti sandwiches. More likely, those shifts will make two other stats really speak to you… First, Pittsburgh apparently also ranks second in pizza places per capita. Second, it's one of the best cities in America for coffee drinkers. I mean, you'll feel right at home!
---
---