What does Nurses Week mean to you? Does your workplace do something special to express appreciation for your work? Did a patient pay you a compliment? One thing's for sure – there are a lot of companies, entrepreneurs and bloggers getting in on the event, presenting giveaways, discounts and special offers.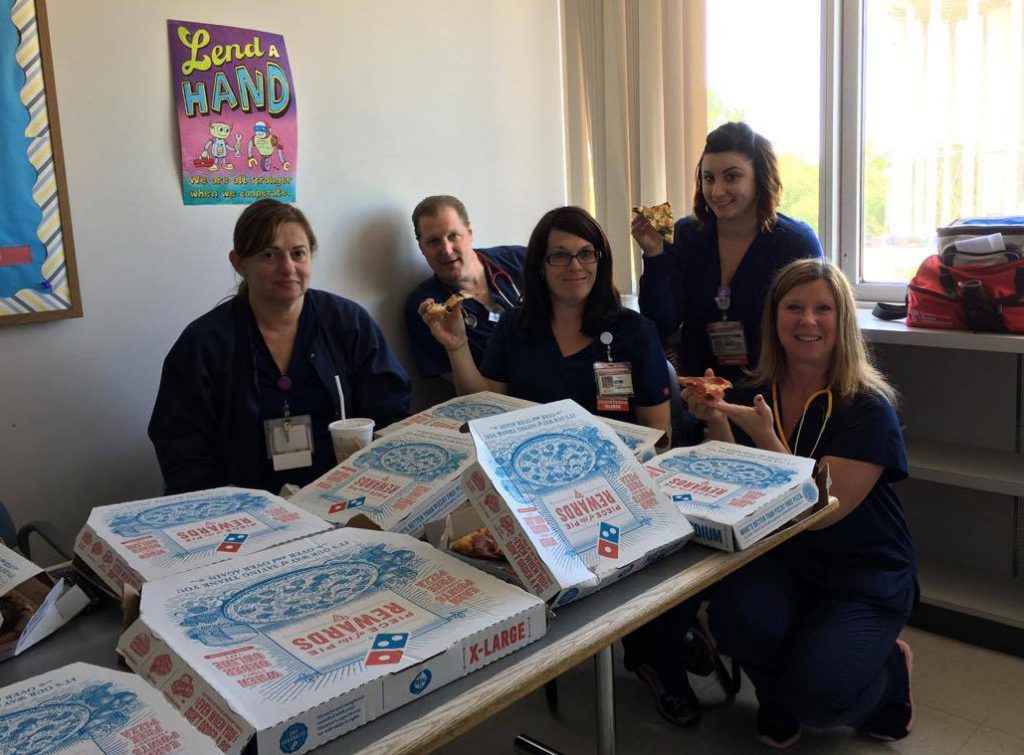 It's true, we do it too! We're reaching out to two nursing units every day this Nurses Week to treat them to a free pizza lunch or dinner! It's not, you know, a raise or extra staff or shorter shifts… but we know you could do with a break and some pizza.
So why not take advantage of these offers? We've raked through Twitter and Facebook to find special offers you can still respond to, and here's a list! We're sure we missed a bunch, though, so if you know of any others let us know in the comments!
Food!
1. This includes us!
NurseRecruiter.com is treating two nursing teams to free pizza for every day of Nurses Week!
2. Only today! Einstein Bros. Bagels – Free bagel and shmear
Einstein Bros. Bagels will give a free Espresso Buzz Bagel and Shmear to any nurse coming to their shops in their scrubs or with their nurse ID. What's more, 10 Grand Prize Winners of their #NurseTheBuzz sweepstakes will receive free bagels and shmear for a year!
3. Cinnabon Bakeries – Free Cinnabon roll
Throughout Nurses Week, Cinnabon Bakeries "will offer a choice for a FREE Cinnabon Classic Cinnamon Roll, MiniBon, or a four-count of the newest treat, BonBites, to nurses presenting their medical ID badge".
4. EVOS – Free meal or salad
Nurses can get a free second meal or salad if they bring their nurse ID at any of EVOS's four locations in Florida.
5. MyLocalBakery – Free cupcakes
MyLocalBakery in Morganton, NC, is "giving a dozen cupcakes to one teacher and one nurse this week". Tag your favorite nurse on their Facebook page to enter them into the contest!
6. DAVIDsTEA – Free Tea of the Day
This Friday, DAVIDsTEA is "treating all nurses to a free Tea of the Day". See if they have a store near you!
Nurse blogger giveaways!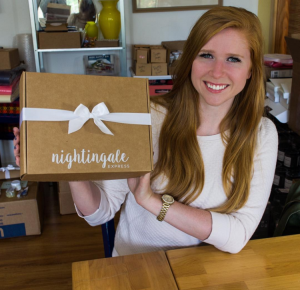 1. Be A Happy Nurse – Win a Nightingale Express gift box for nurses
Be A Happy Nurse is the blog of Maggie, an RN at Michigan Medicine. She's doing a giveaway and the winner will get "an awesome custom gift box from Nightingale Express", "filled to the brim with luxurious products that all nurses will find helpful every day!"
2. FreshRN – Books, scents and "badge blooms"
Nurse blogger FreshRN is giving away different prizes each day!
3. The Nursing Site Blog – Free e-books by or about nurses
This blog highlights the writing of a different nurse author every day, offering free Kindle downloads.
Money!
1. BAYADA Home Health Care – Win a $500 gift card
Five winners of this giveaway will win a $500 gift card. Enter before May 12, 2:00 pm UTC!
2. Show Me Your Stethoscope (SMYS) – Win a $50 Amazon gift card
The nurse advocacy group Show Me Your Stethoscope (SMYS) and the University of Rhode Island College of Nursing are giving away two $50 Amazon gift cards to honor nurses for #NursesWeek. Enter before midnight on Friday May 12!
3. CRU48 – $100 giveaway
Fill in a survey about "what you do to balance your mind, body and spirit as a nurse"; the most creative answer wins $100.
4. Medical Solutions – Win a $2,000 scholarship
Are you studying to be a nurse, and do you have a vision about the future of nursing? The Nurses of Tomorrow Scholarship Contest offers three $2,000 scholarships in honor of Nurses Week!
Scrubs, shoes and more!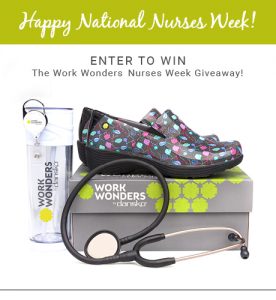 1. Adar Medical Uniforms – a year's worth of scrubs and more
During Adar's Nurses Week social media giveaway, nurses who "share their nursing inspirations through images and video" can win one of ten gift sets which include a year's worth of scrubs, Adar's underscrub, two bags, a notepad, LED pen light/touchscreen stylus and more!
2. Dansko Footwear – "Work Wonders prize packs"
Dansko is giving away seven "prize packs," which include, of course, a pair of Work Wonders shoes, as well as a stethoscope, water bottle, badge reel, and pen light.
3. Sofia Vergara & Careisma Scrubs – Win a year's worth of scrubs, a coffee bar and perfume
One winner will receive a year's worth of Careisma scrubs, a Ninja Coffee Bar, and a bottle of Sofia Vergara perfume.
4. Castle Uniforms – Win a Wink Purse/Tote & Wink Survival Kit
Scrubs and bags! Separately, they're asking you to nominate your favorite nurse (by 5 PM today, Thursday) to win a $100 gift certificate.
5. Cherokee Uniforms – Win a gift package worth more than $5,000
Five winners will receive a year's worth of Cherokee swag, including footwear from Cycle Ride, Babes In Scrubs apparel, a Littmann Stethoscope, compression sleeves, tumblers, and skin care products from Ideal Face & Body!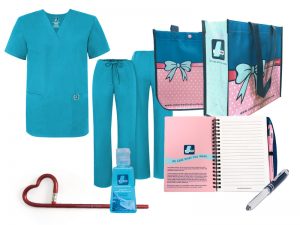 6. NurseGrid – win a pair of designer scrubs
"To enter the giveaway, just take a ShiftSnap using the new #NursesWeek filter and share it" on social media, tagging NurseGrid; you might win a set of Figs scrubs.
7. HealthStream – Win an Amazon Echo Dot
"HealthStream is giving away 2 Amazon Echo Dots to 2 deserving nurses each week" in May, and offers a free eBook on "Trends in Healthcare Learning".
8. Dickies Swag & Littmann Stethoscope – Win scrubs and footwear
Two winners of their giveaway will receive a set of scrubs, a pair of Dickies Footwear, a backpack and a Littmann stethoscope!
9. Uniform Advantage – Nurses Week sale
Online shoppers at Uniform Advantage get 20-50% off on several brands of nursing wear until May 14.