Here at NurseRecruiter.com we've been doing nurse photo contests for years now, and you know what the only thing about it is that makes us sad?
We only get to pick one winner each time! It's usually a big prize, sure — but any other participants get nothing. It's like a lottery, and that just ain't right. Nursing can already be kind of like a lottery sometimes, and nurses deserve more!
That's why we are revamping the whole thing. We want to make it so everyone benefits!
It's going to be extremely simple. All you'll need to do is to send in a photo of yourself in your work scrubs and add something about yourself. Or a photo with your colleagues, of course! How, where, what, it doesn't matter; it's all up to you. And every photo or set of photos we publish anywhere — even if it's just in a single social media post, and we hope to post a whole bunch of those — is a winner!
We'll be coming up with more creative prizes over time, but we're going to keep it straightforward to start with: any submission we publish anywhere gets 25 bucks.
Meanwhile, the big prizes aren't going to go away either! Edlynn Villalon just won a massive $500 group photo prize in our last photo contest after sending in pictures of her travel nursing work at the production of hit Netflix series Lucifer. (Yes, really! Read our Q and A with her!) And we will keep picking surprise winners of much larger prizes like that when a submission is something special.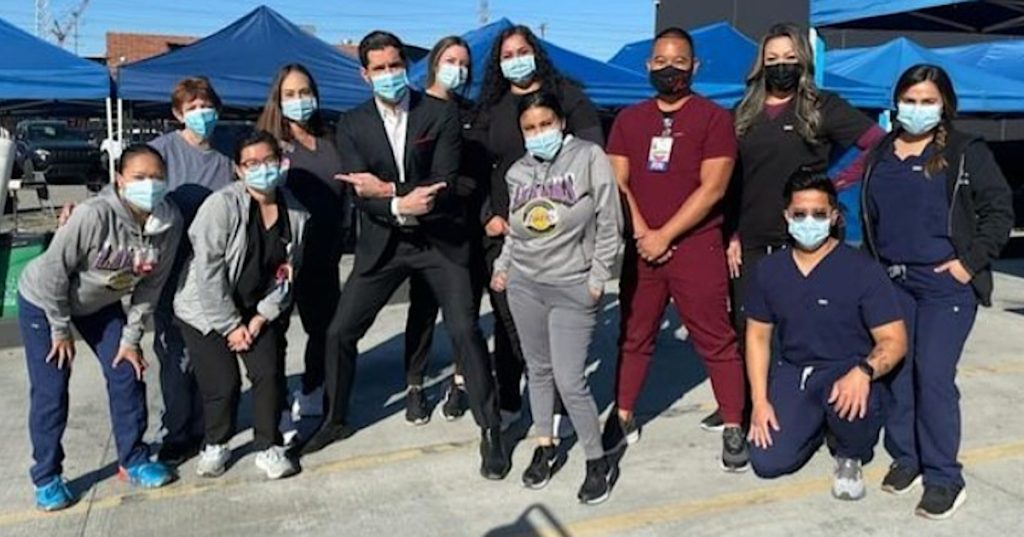 So just drag and drop your photos into our photo contest web form (and send as many as you'd like!). Or email them to contest@nurserecruiter.com, message us on Facebook, Instagram or Twitter — whatever works best for you — and add a line or two about yourself.
To kick off our new photo contest format, we want to introduce you to two other nurses who took part in our last photo contest, because they'll be the first new type of winners. Meet Brittany Mayer, LPN, on the left, who sent us a great selfie and added: "Night shift is lonely, but someone's got to do it" (fact check: true!). And on the right: long term care nurse Carleena WalkingBull and her colleagues, pulling a night shift on Christmas (respect!).
Our photo contest: The small print
There is no limit to the number of

entries you can send.

Going forward, until we present a new prize, any submission we publish will receive $25.
All that's needed to qualify is that it's a photo of yourself (or with your colleagues) in your work scrubs, and that you add a little something about yourself.
No entry fee is necessary to participate or win. The contest is void where prohibited by law, regulation, statute or other appropriate legal authority.
To win, participants must have an active NurseRecruiter candidate profile and be U.S. residents. Employees, agents, contractors and owners of NurseRecruiter and their immediate relatives and household members are not eligible to enter or win.
Contestants grant NurseRecruiter a worldwide, perpetual and non-exclusive royalty-free license to reproduce and publish each submitted story/comment and photo in any medium, including promotional material and advertisements.