Send us a photo for a chance to win $100!
As many of you nurses already know, it is not easy to find accurate portrayals of nurses. As we explained the in our last photo contest:
Real portrayals of the nursing profession are few and far between and instead of settling for buying fake-looking models posing in halloween nurse costumes for our stock photographs we at NurseRecruiter.com figured that we might as well try asking the many nurses who use our nursing job board to send us their own, real, photos and let us use them to better represent the face of nursing to the world.
We have received so many great photos of you nurses that we decided to make this an ongoing contest!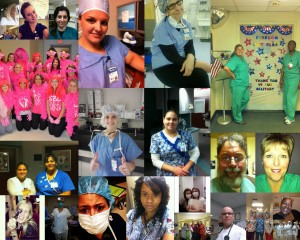 Help us show the world the real image of nursing!
Send your high-resolution photos to contest@nurserecruiter.com and make sure to include your name and a description of the photo(s). Enter as often as you like and make sure to invite your nurse friends!
Here are some ideas you might want to use to make a great photo:
Photos in scrubs (the better to tell you are a nurse!)
Clinical/Work photos (show us what you do!)
Group photos (the more the merrier!)
Travel nursing photos (tell us about your travels!)
Hold up a message (say hi to us or your fellow nurses!)
Official Contest Rules
NO ENTRY FEE IS NECESSARY TO PARTICIPATE OR WIN. THE CONTEST IS VOID WHERE PROHIBITED BY LAW, REGULATION, STATUTE OR OTHER APPROPRIATE LEGAL AUTHORITY.
To enter, contestants should email their photos to contest@nurserecruiter.com
An unlimited number of entries are allowed
The winning photograph and photographer will be selected by NurseRecruiter.com
The winning photographer will receive a $100 Amazon.com gift certificate by email
Contestants grant NurseRecruiter.com a worldwide, perpetual and non-exclusive royalty-free license to reproduce and publish each submitted photo
Employees, agents, contractors and owners of NurseRecruiter.com and their immediate relatives and household members are not eligible to enter or win the contest