Just like last year, we sent gifts to nurses across the country this Nurses Week. We sent out a bunch of different t-shirts, pretty flower badge reels, hip packs to keep your nursing supplies in, gift boxes of giant body cell plushies, designation badges, and even cash gifts to no fewer than 38 winners.
And just like in the last two years, we made a sizable donation to support non-profit efforts that are directly aimed at supporting you, nurses, in what have been difficult times in the profession. Not to major corporate charities, but where we could make a real difference.
But one thing changed: we let you make the calls on both counts!
Every day, we highlighted the work of a nurse charity or grassroots group that helps, empowers or advocates for nurses. We covered a wide range of initiatives. From the specialized focus of a group like Melanated Midwives, which promotes the diversity of the midwife profession with scholarships and mentorship, to the profession-wide advocacy community of Show Me Your Stethoscope. But we told you each day: your feedback was going to determine our donations.
Your judgment was impeccable: you picked two organizations whose work is incredibly important right now. We gave $500 to The Emotional PPE Project, a recently founded initiative to connect healthcare workers in need with licensed mental health professionals — who provide help free of charge! And we gave $500 to Nurses House, which provides short-term financial assistance to nurses in need as a result of illness, injury, or disability.
Your messages are what means the most!
At the same time we were asking you every day to nominate your favorite nurse — or yourself! — for a Nurses Week gift. What we love most about doing this is that we don't just get to send out lovely gifts to amazing nurses, but you also get a perfect chance to let the nurses you admire know how much you appreciate them!
Take Windy Stevens, who nominated Amber Espinoza for a gift set of BadgeBlooms "because she's a great nurse," and explained:
💬 She started as a new nurse at the beginning of the pandemic, she fought through and even volunteered extra time to make sure the work was done and no nurse was left stranded. She is now certified charge and is dedicated to her job.

This badge reel would be nice for her to have as a reminder that even when times are rough and shifts are hard there's beauty somewhere, because who doesn't like looking at a beautiful flower?🌸
Bonds between nurses grow deep when facing hard times, and sometimes they grow into a lot more. We loved Lalita Chan Pillai's entry, where she described how her favorite nurse is also her husband:
💬 I am so grateful for my hubby! We are both nurses, and he walked with me through one of my darkest times of my life working night shifts in the neuro ICU while he worked med-surg ICU nights. I would love to show my appreciation to him. 💕❤️
We sent Nurses Week gifts to young and old, from CNAs to NPs. We sent a The Future Is Nursing t-shirt to Regina Price McFerren, who has worked in nursing for over 45 years; we sent a RN designation badge/reference card to Kaylee Matthews, who will graduate as RN next week.
We sent a Moxie PRN Hip Pack to Yashuo Fazilova, who has worked for the past four years as a med-surg nurse with veterans who are battling cancer, providing them with the help that they need and deserve after fighting for our country, and a BadgeBlooms gift set to Eileen Clarke, who herself battled breast cancer and continued working throughout thanks to the support of her nurse friends.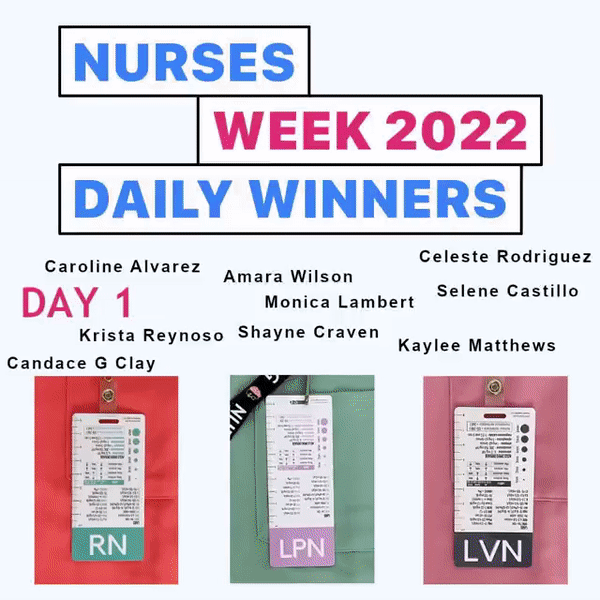 We sent gifts to nurses who paid tribute to the mothers or sisters who inspired them to take up the profession, and we sent gifts to nurses who rightly were not afraid to "to toot my own horn for a change," as Jenn Leonard put it: "I recently made the change to being a travel nurse after 13 years as a staff nurse.. I'm rocking it and I'm not ashamed to announce it!"
And — we can't stress this enough — neither should any of you! We are mindful of what ICU nurse Candace Clay movingly told us about how "the past 2 years have been the worst I've ever experienced in over a decade of bedside nursing, as we've lost some of our own to Covid". And we wished, we really did, that we could have sent a gift to every last one of you. Because you deserve to be recognized. You deserve to be recognized. And you deserve this more than one week a year!