It's one of the most frequently asked questions we get in comments to our posts and advertisements. Do you have work-from-home nursing jobs? Does your site list telenursing positions for RNs, or any kind of telecommute jobs? Any remote nursing job opportunities?
We understand!
I can tell you one thing for sure — there's no nursing company more sympathetic to this question than NurseRecruiter.com! We all work remotely ourselves. Started doing it well before this cursed year and the pandemic it wrought. We've been doing it for years!
So we definitely understand the attraction. Live where you always wanted to live! Rid yourself of the practical obstacles that kept you from pursuing long-cherished dreams. Avoid dreary and expensive commutes. Work where — and when! — you feel most comfortable and least stressed. Take back control over your work-life balance! Put yourself at a healthy distance from workplace drama and executives second-guessing everything you do.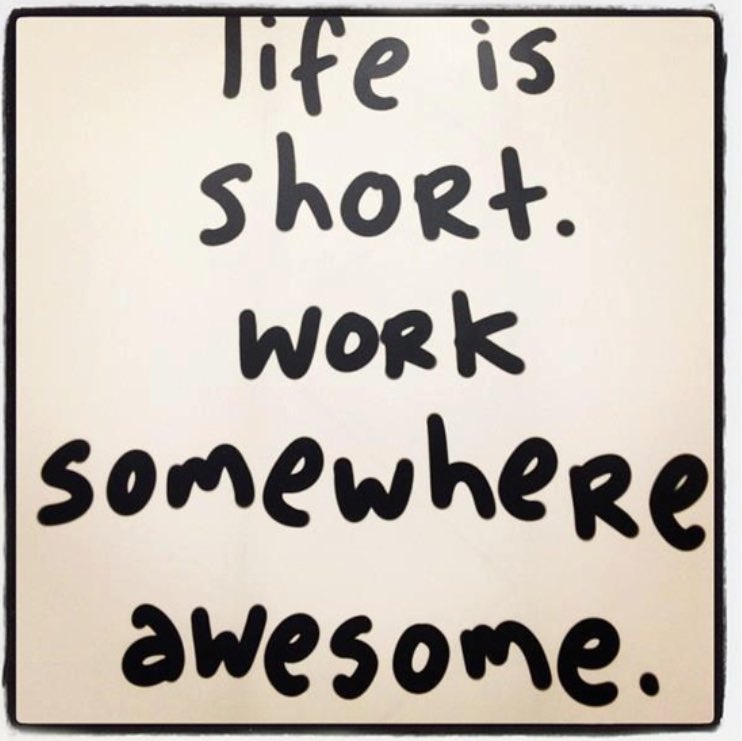 Remote working also opens up windows of opportunity for people who otherwise face challenging thresholds. When you can't leave home for 12-hour shifts because you are raising a kid by yourself. When a disability makes working as floor nurse hard or impossible. When your age or health puts you at too high a risk in these pandemic times to accept a hospital job.
No less of a nurse
We don't need to explain why interest in remote nursing jobs has surged this year. Hospital work was never harder than now; never as anxiety-inducing.
But even before Covid-19 ever reared its ugly head, there were stories we heard over and again. Being a bedside nurse can be exhausting. Floor nursing in understaffed teams is stressful and sometimes even literally back-breaking. Working in hospitals with high-acuity patients pays well, but takes a lot from you too. Nurses get burnt out.
In short, the whole industry needs change. But in the meantime, can anyone really blame you if you go looking for an alternative? If you genuinely love caring for people, but crave a different way to pursue your calling? You will be no less of a nurse working from home!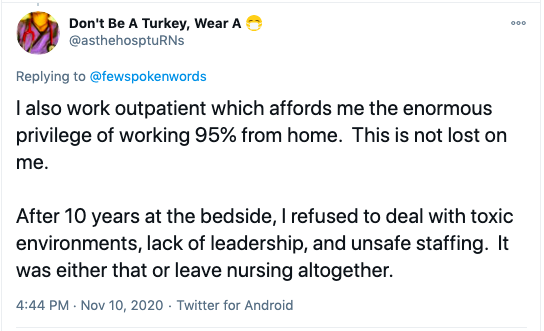 You're going to need a plan!
The next question is: how realistic is it? Nurses aren't office workers, after all, doing 9-to-5's behind a computer all day. While white-collar workers stay at home to protect themselves, you're out on the front lines. Essential workers. Because to be a nurse, you need to be by your patient, with your team. Right?
By and large, this is true. We have to be honest: most nursing still cannot be done from home. But don't give up on your dream quite yet! Remote nursing jobs do exist, across a wide variety of settings. If anything, the Coronavirus pandemic has increased the need for telenursing, boosting demand for specific positions like phone triage nurses.
But you need a plan. Many work-from-home jobs in nursing involve specialties that are professions by themselves, like online nurse education, medical coding or billing, or case management. Qualifying for those might require investing time and resources in getting the right qualifications and experience. You might have to go back to school first. But the jobs are there!
Maybe you already have the right qualifications. And if you don't, you just have to think of it in terms of a strategic plan — which steps do you need to undertake to get to your goal of qualifying for them?
Let's look at a few examples, and use some of the great advice you yourselves have suggested in comments to our Facebook posts!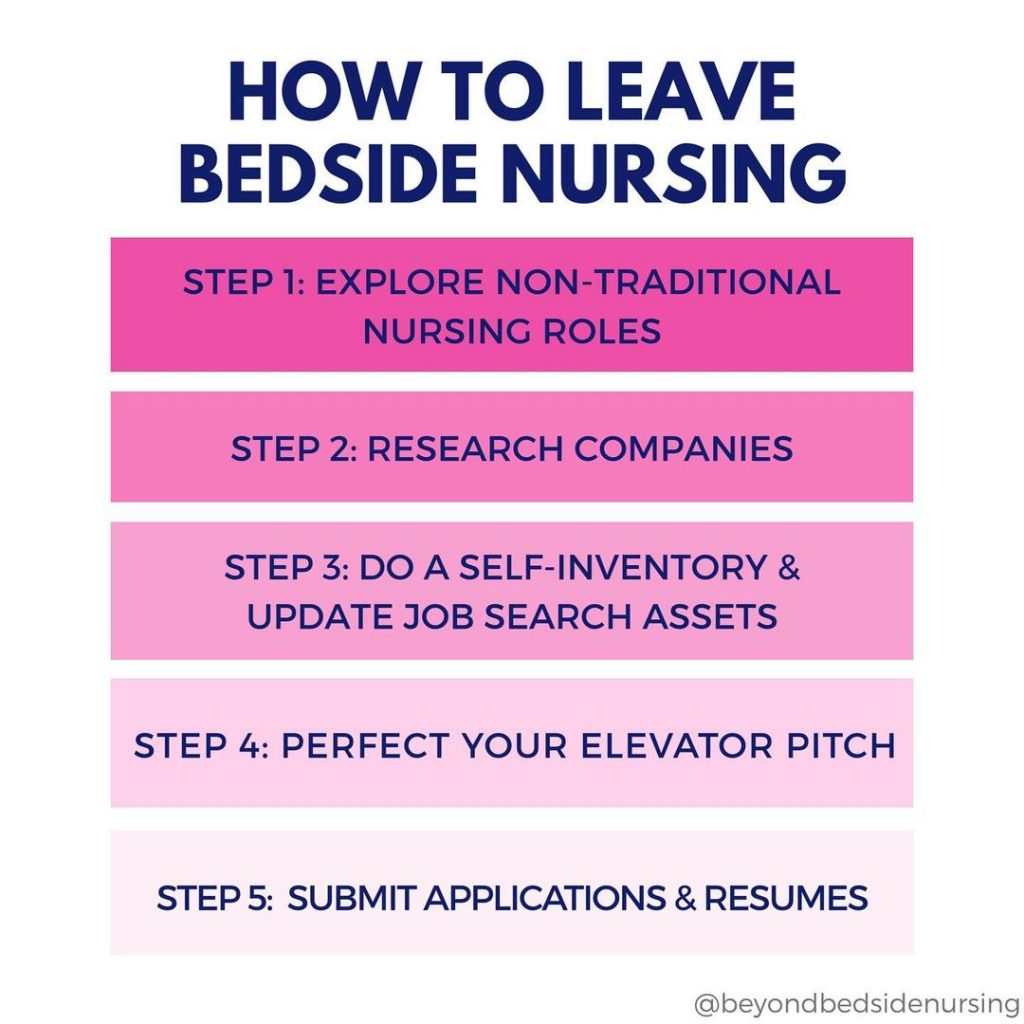 Telehealth nursing and telephone triage
Telehealth services are facing "a flood of patients in the wake of the coronavirus pandemic," to the extent that providers are struggling to meet the demand. That means telehealth companies are ramping up their hiring of new staff!
There are different kinds of telenursing jobs, involving greater or lesser professional responsibility. They can be done from office locations or from home, depending on the job and employer. "I have friend who loves telenursing!," Margie Kirchgesner Gehres wrote, explaining that "some nurses prefer to go to the office and answer phones" while others prefer the "solitude at home".
Now medical facilities are even more overstretched than normal, and eager to minimize the infection risks of in-person visits, they are hiring more nurses to do telephone triage. Triage nurses can assess symptoms to decide whether an appointment is necessary. An experienced RN is perfectly qualified to tackle many of the every-day questions patients have, and a lot of those can be handled adequately by phone!
A call center nurse has fewer responsibilities. They don't issue medical advice of any kind, they just make sure patients are connected through to the right person.
Many insurance companies and health systems provide a 24-hour nurse advice line. The advice nurses manning those lines help patients with non-emergency issues sort out what support they might need, understand their medications, find the care they need if they are away from home, and get a 'sick slip' if needed.
Most importantly, when people are anxious about any suspected medical issues, these nurses provide evidence-based healthcare advice. Infinitely more useful than having them just google their symptoms and inevitably 'finding out' it must be cancer..
And speaking for the nurses working in these jobs, dealing with these everyday issues, however important it is to address them early, does sometimes involve a more light-hearted note…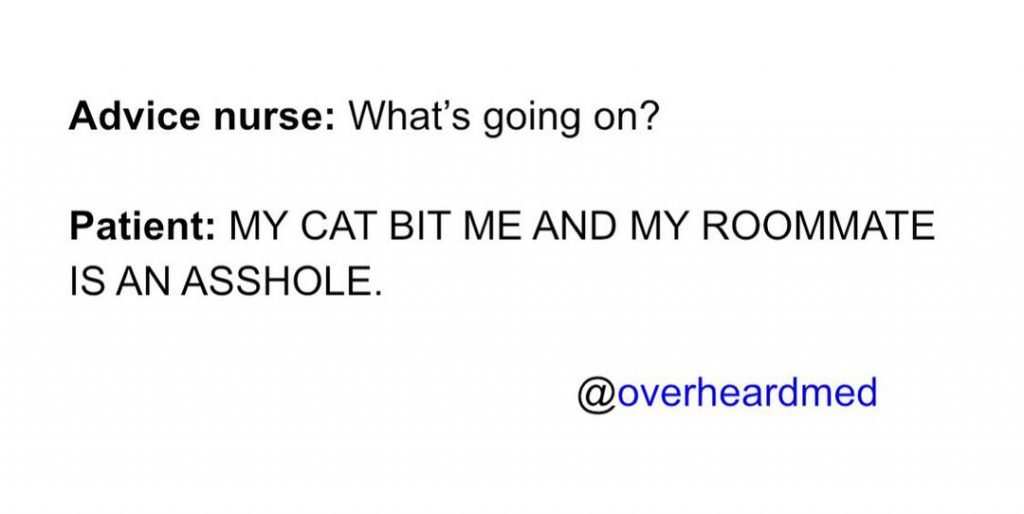 Online nurse educator
Our website regularly features jobs in nurse education. Until this year, few of them involved working from home. But for obvious reasons a lot of nursing education has now gone remote, and so have the jobs of nurse educators.
Even when all this is over, online teaching will likely occupy an ever more prominent role. Not just for nursing schools educating tomorrow's nurses but also in continuing education, training experienced nurses advanced skills. All those online courses you see advertised? There are faculty jobs teaching them, designing courses and curricula, evaluating applications.
It's a rewarding and important job, and one that has good prospects of providing long-term stability. The plan? To work in education, focus on pursuing your own, and get that Master's degree in nurse education!
A related if rather specific job is to be a nurse exam writer, where you help to formulate appropriate questions for nursing certifications and exams (and we all know that some of those could be articulated more clearly!)
Case manager
"Case management and utilization management jobs are often work from home," Heather Roets Meade said in our Facebook comments. And she's right! (And we'll get back to those utilization management jobs later on.)
Case managers (or case management nurses) play a key role in navigating complex care for patients whose treatment involves multiple specialties — often older people with chronic health conditions. They scrupulously manage the communication between the physicians involved in their care as well as with the insurance company.
The case manager is both a coordinator and a go-between, helping them all to create the best care plan for the patient. But they keep a firm eye on the institutional needs, legal and financial ramifications involved. Their focus is also on preventing any non-compliance, minimizing the overutilization of services, and finding cost-effective solutions.
The jobs market for nurse case managers is growing rapidly. In hospice and home care centers for example, but with increasing space for remote work as well. Working from home, you'd be on the phone a lot, from helping patients with their doctor's appointments to assisting the care providers in scheduling important surgeries.
Like many of the jobs in this list, entering this field is a lot easier with several years of experience as Registered Nurse. To complete your qualifications, there are four different ways to earn your certification in case management.
Care manager or patient advocate
While case managers help the patient get a handle on the complicated care issues he or she faces, they still operate within the restrictions that are set by the hospital, insurance company, or other institution that employs them. What if you enjoy patient education and care coordination, but you want to be wholly on the side of the patient, with nobody's interests but theirs in mind?
That's where a care manager comes in. Their work can be especially important when someone faces a lifelong injury, a chronic disease, or the prospect of end-of-life care. The choices and pressures involved in understanding treatment options and grappling with insurance issues can be overwhelming. That's all the more true for the elderly and their families, for whom an aging life care manager or geriatric care manager can be a godsend.
Nowadays, and of course especially in current circumstances, a significant part of this work is done remotely, by telephonic nurse care managers.
Care managers take a holistic approach, Lori Beth Charlton explains. They help their clients navigate the maze of health care and long-term care systems with a firm eye on what serves their overall quality of life best. And they don't just look at their medical needs, but also at how those intersect with a client's "social, emotional, financial, legal, and housing needs".
Medical coder or biller
Several of you mentioned medical coding and billing, which is a rapidly growing field as well, and again has the distinct advantage of steady and predictable hours! A lot of this work is done in offices, but there is an increasing number of remote jobs too. "I am an RN and went into coding eight years ago, work from home," wrote Janice Larson.
The jobs involved, as medical biller or medical coder, are quite different from each other, and it's mostly just in smaller businesses that the same person does both billing and coding. Billers and coders are both health claims specialists, but becoming a medical coder takes more study and experience (and pays better) — though one job is a great starting ground for the other!
Medical coders play a key role in the billing process — errors in assigning medical codes will lead to insurance companies being incorrectly billed, which can cause contested or rejected claims and serious headaches for patients and hospitals. But it can be genuinely tricky to translate notes and documentation from various sources about complex medical issues into unambiguous medical codes. A medical coder has to be able to understand and interpret medical documentation as well as insurance contract language in enough detail to provide a clinical opinion.
That's why RNs have significant advantages applying to these jobs. But medical billers, too, benefit from a nurse's real grasp of clinical care when it comes to getting the details of the billing forms right, especially in a complex field like home care. As medical biller, you gather insurance information from the patient, review billing records for Medicare and/or Medicaid claims, and collaborate with insurance companies when filing claims "to work out denials/rejections, finalize the details and send out statements". You also operate as an intermediary, helping patients understand their charges and smoothing out stressful issues — so your bedside manner still matters!
Either line of work can involve a bit of detective work, "dissecting a patient's medical record, tracking down additional information," which is part of the charm. That goes for a medical review nurse too, whose job partly involves detecting potentially fraudulent or abusive billing practices.
It won't come as surprise that you need to do specific courses to take on these jobs as well. Further education is key, from a specialized degree or certification to follow-up workshops. Especially if you want to get that job as remote medical coder, additional experience and training counts!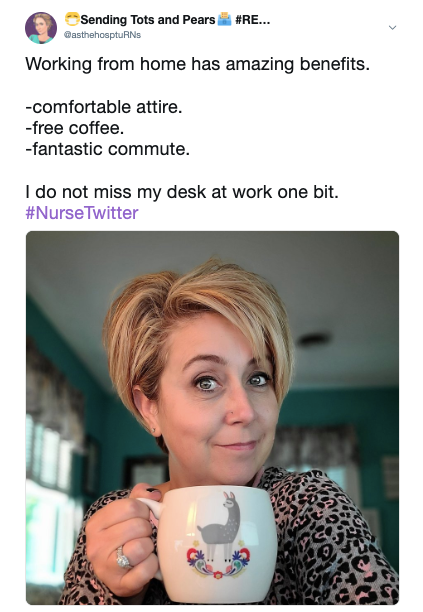 Utilization review nurse
If you've been a RN for long enough, you may have your issues with insurance companies. Maybe not the first place you think of when wondering if the grass is greener on the other side! But there is a variety of job opportunities to be found there for nurses who seek alternatives to bedside nursing, with more regular working hours to boot. Not just for case managers, but for insurance claim specialists and utilization review nurses too.
A utilization review (UR) nurse assesses the severity of the medical problem, and whether it meets the criteria for full inpatient treatment or other levels of (eg outpatient) care. Hospitals and other healthcare providers need UR nurses for that same task. But when you work for an insurance company, you review claims to determine which kind of treatment is warranted, scrutinizing medical records and medical review criteria and guidelines to identify what procedures are covered and what amount needs to be paid out.
A significant amount of jobs in the context of case management at insurance companies involves disability claims and workers' compensation cases. A nurse case reviewer or nurse consultant focused on workers' compensation claims will review the documentation to make sure the claim meets all compliance standards.
Health coach
If some of the above jobs sounded all too bureaucratic, becoming a health coach might be a good alternative! As bedside nurse, you care for the sick — that is why you chose the profession after all, right? But do you ever wonder about all the patients who might not have needed that hospital care, if they had gotten a little bit more help with preventative care earlier?
To put it in fancier words, "a key feature of U.S. health care" is the way it encourages "overuse of services by favoring procedural over cognitive tasks (e.g., surgery vs. behavior-change counseling) and specialty over primary care". That's how Farshad Fani Marvasti and Randall S. Stafford articulated it in a New England Journal of Medicine article titled "From "Sick Care" to Health Care", where they argued that "a prevention model, focused on forestalling the development of disease before symptoms or life-threatening events occur, is the best solution".
As health coach, you can be part of this solution. Instead of prescribing what someone should do, you mentor them into finding the right ways to do it, building "one-on-one relationships in order to make wellness plans and set health goals that will work for a specific person".
The good news is that this is work that can also be done online from home, as remote health coach. "Lots of insurance companies want health coaches to work from home," The Nerdy Nurse explained. So do other health and wellness companies and sites like WebMD. And with a bit of entrepreneurial spirit and a knack for networking, you can also work as independent, self-employed health coach!
Health informatics nurse
Getting into health informatics as clinical informatics nurse or nursing informatics specialist is another great option if you want to pursue long-term work-from-home opportunities.
"I started being able to work partly from home in 2012 when I was an EHR Application Analyst," The Informatics Nurse explained. "I was able do more productive work with the time saved from my long commute. Just as important, I could more easily spend time with my then-3-year-old daughter during breaks (and I wasn't too tired to play with her by end of day). After that, I worked as a Project Consultant for a health system in the Midwest while still residing in California."
Health informatics is a good field to choose if your drive as a nurse stems from a holistic passion to improve the care people receive, rather than the satisfaction of one-on-one patient contact. A lot of new technologies make our jobs as nurses ever easier, but if you've been a nurse for a while you also know that how some of them are applied in practice can be… bothersome. Why not be part of the solution yourself?
It's your chance to show how innovative you can be! Use your practical nursing experience to consult on new technology applications, or to help build or evaluate data and information retrieval systems, for patient records for example.
Does that sound too abstract or ambitious? Informatics nurses also stay closer to day-to-day hospital life by helping employers introduce new electronic health records and medical charting systems, making sure they're always updated, and educating nurses on how to use them.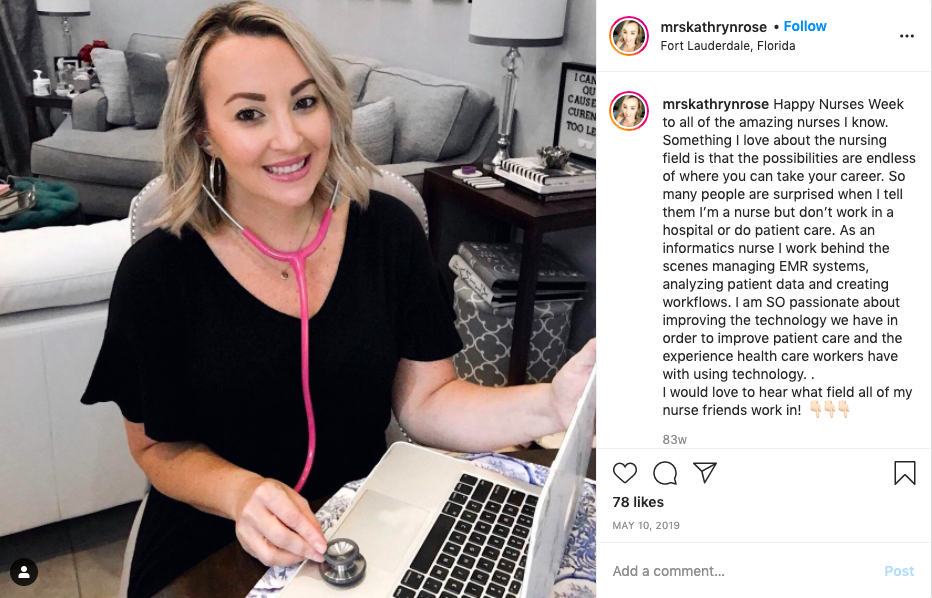 That means you'll first have to educate yourself, of course. The Nurse.org info sheet on nursing informatics notes that "some employers will hire tech-savvy BSN-prepared nurses for informaticist jobs," but "there is an increasing demand for nurse informaticists to have a Master's degree in Health Informatics or a related field".
It might be worth it, though, as The Nerdy Nurse has pointed out: "the Bureau of Labor Statistics projects a 15% increase in demand for information technicians in nursing by the year 2024. Since this is a relatively new and high tech industry, nursing informatics are some of the highest-paid nurses."
Research nurse
Being a clinical research nurse is another alternative that involves remote work opportunities, and even the office jobs involved get you home more often than hospital work! "I'm in research," a nurse on Reddit's Nursing forum explained, and "I'm home every evening for dinner, no call/weekends/nights, work from home when I'm not seeing patients, and I feel great, well rested, and happy".
Writing data analysis manuscripts and study protocols is "fascinating and mentally stimulating" work, the nurse added. Because that's the kind of work a clinical research associate does: whenever a new drug, treatment or medical device goes through clinical trials and testing, research nurses monitor the studies, analyzing and writing up their progress and findings. They ensure regulatory and study protocol compliance, make sure all important patient information is recorded correctly, and recruit and screen patients for clinical trials.
If bedside isn't your cup of tea, just know there's great jobs available out there. You just have to hunt and wait.
Peering over documents is as far removed from everyday hospital care as you can imagine, but that is kind of the point! As a fellow research nurse interjected, "I only go into the office 1-2 days a week… I am SO much less stressed these days, and I'm making more than I was in the ED." Like they said, "if bedside isn't your cup of tea, just know there's great jobs available out there. You just have to hunt and wait."
Legal nurse consultant
Alisia McIntyre had another suggestion. "Perhaps you can be a legal nurse consultant." Not just is this another job that an experienced Registered Nurse can do from home as self-employed, independent contractor, legal nurse consulting is a handsomely paid specialty as well!
Take the legal department of an insurance company, for example. When they investigate a personal injury claim — or worse, a case that involves accusations of medical malpractice or wrongful death — they won't be able to get by on their legal expertise alone. They will need advice from people with medical expertise and hands-on healthcare experience!
That's where legal nurse consultants come in. They identify, interpret, organize and summarize the relevant medical records. They assess the damages and injuries being claimed and the costs of future care, review hospital policies, and interview clients, witnesses and experts. They search for relevant literature and make sure it's reflected correctly, and screen incoming cases for merit. They review and summarize depositions, and even testify in court as expert witnesses themselves.
But it's not just insurance companies that need them. There is work for legal nurse consultants in "law firms, government agencies,… patient safety organizations, business and industry legal departments, healthcare facilities and forensic laboratories" too! Your work might involve regulatory compliance, product liability, worker's compensation, even criminal cases involving assault or abuse.
To become a legal nurse consultant (LNC), you first need to be a RN with extensive experience, and then work on your legal knowledge. Start with a nurse consulting training program and if possible, follow-up with an internship or by attending in legal seminars. To be the perfect candidate, enhance your reputation by getting certified as LNCC by the American Legal Nurse Consultant Certification Board. You can get your first job before working through all those steps, but as with many of these jobs that allow for working from home, the longer ahead you plan, the easier it is to realize your dream!
Nurse consultant in other fields
Not all nurse consultants are in the legal field! There are definitely other niche specialties for nurse consultants that are a world away from bedside nursing.
Companies which provide genetic testing, for example, employ genetics nurse consultants to communicate the test results to their customers in language they can understand. Businesses planning to launch new products aimed at nurses need an insider's recommendations. Some occupational health nurses work as consultants.
There are creative nurse consultants too. One might even end up advising a film or documentary maker on how the profession is portrayed! And a lucky few who prefer to really delve into the details can find work as medical script nurses, making sure the medical plots devised by TV and film writers don't stray too far from reality..
Writing and business opportunities
If you are creative and have an eye for business opportunities, you could run a side hustle as nurse entrepreneur. If you're successful enough, it might even become your next profession! We interviewed a former pediatric nurse, Melissa Gersin, who invented a baby-soothing mat and made that "Tranquilo Mat" her business!
If you are a skilled writer to boot and never short of ideas, being a nurse blogger nowadays is basically a subset of this category. Honestly, we are grateful for the old-school nurse blogs where people simply spend a few hours of their spare time to share moving, funny or interesting stories and practical advice and insights. But the best known bloggers these days are basically nursepreneurs in their own right, using their blog as gateway to more financially lucrative opportunities.
It's definitely not the easy money it may seem at first blush — just sprinkling your posts with affiliate links won't get you more than pocket money. If you look at the most famous nurse bloggers, they are excellent communicators in a broader sense, deploying their skill as writers to attract invitations as speakers and coaches, appearing at conferences, workshops and training sessions. Online, their blogs pull in curious readers, but it's the more in-depth resources they provide — the training materials, educational videos or toolkits for nursing students — that bring in revenue.
Would you rather really just stick to writing? There's no need to start your own blog to be a freelance nurse writer. Medical journals and magazines commission articles from writers with in-depth knowledge of medical terminology. You don't necessarily have to start at that level either, though! Think of how many healthcare businesses are out there, how many nursing schools. They all have websites, and they all require new content every day!
The middle road: partly-remote alternatives to hospital bedside care
Many home health jobs can't be done from your own home, but there are advantages to visiting patients at their homes instead of working in a hospital — and some of the work has now moved at least partly online.
"It doesn't require being on your feet all day," wrote Gayle Colleen in our Facebook comments. "I do pediatric home care, you have one patient and get to sit some," Shawna Tyo added, heartily endorsed by Alexia Carlson: "That's what I do. I love my job!"
A nurse in Reddit's nursing community recounted his experience doing home medicare wellness visits. Doing those as a job already had numerous advantages over working in a hospital before, he argued, and now the switch to doing these check-ins virtually provides even more freedom. "I've never worked in a hospital and never have any desire too. I do telehealth and medicare annual wellness visits. I choose my own hours, .. wear literal pajamas and make $34 an hour. Prior to covid I did the same but visits at homes. In — do the assessment, get BP, temp, 02 sat — out. Get to meet folks, cats and dogs. No coworker drama. Lazy nurse? Maybe, but my back's fine. I love my job and I got money in the bank."
Remote nursing is in your grasp: plan for the future
In short, it's not quite as simple as just checking a box in our search fields to say 'only jobs from home' — like all major life or career changes, switching to a remote nursing involves thinking through choices and achieving your plan step by step. Know your options, identify networking opportunities, ask questions. But if you find yourself unable to grapple with the challenges of bedside nursing anymore, there are definite possibilities to put your nursing expertise to good use in alternative careers!