"This is supposed to be a place where we save and heal people," Donna Lee Peterkin told a news conference this week. She is a registered nurse at Bronx-Lebanon Hospital Center in New York City, and recounted what she did when Henry Bello went on his brutal shooting spree exactly one week ago.
She was holed up inside a room on the floor where Bello tried to set himself on fire after murdering one doctor and injuring six others. "I couldn't abandon my patient," she said. "I was scared and she was scared, but I had to be brave for her, so that she could see somebody was there for her… because that's what we're called to do."
Several national and New York news media have presented the personal stories from Bronx-Lebanon employees who witnessed the ordeal from close by: Newsday, the New York Times, CBS News, PIX 11, Fox 5 NY. Nurses were on the front line too.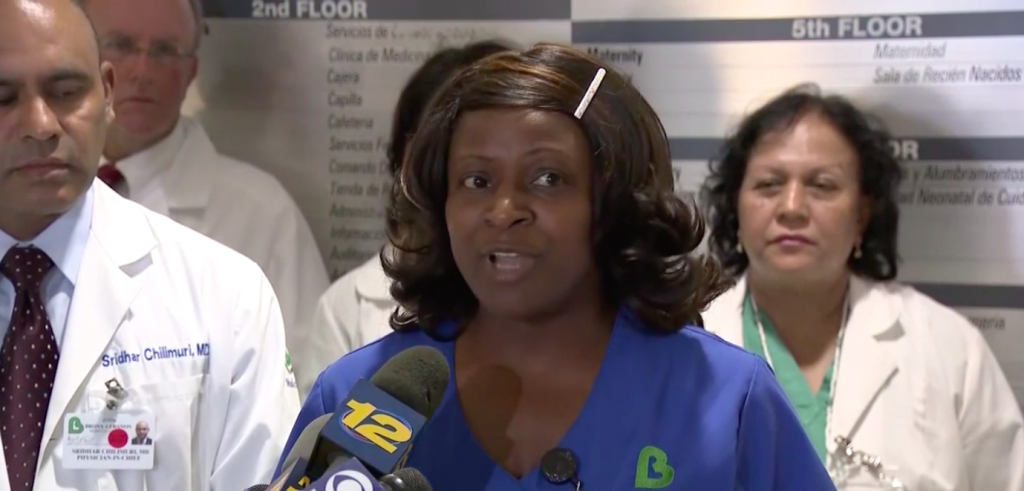 "We're all in this together"
Donna Peterkin, a mother of two children aged 12 and 2, spoke from the heart about her fears and was quoted by all the news reports. She had just finished hanging the IV for one of her patients, an elderly woman with pneumonia, when she heard the shots. "My patient jumped," she recounted. The gunshots "were so close and so loud, that I really thought that whoever it is out there, was going to come inside the room." So she calmed her patient down and then "laid on my stomach flat under the bed," she recalls in a video on the CBS News site:
"Immediately I took my phone out and called 911. Then my patient next door had her boyfriend close to her and he … closed the door, but before that he looked outside and he said 'nurse, there's a lot of smoke coming outside so you need to stay here'. I said, don't worry I'm not going anywhere. So I asked the other patient, are you OK? She said she was scared. So I said we're all in this together. Just stay calm and let's just be quiet.

The smoke kept coming in after he closed the door, and I had to get up from underneath the bed and put the oxygen on her face. And I told her to just breathe, just keep breathing. And then I looked outside and all the police started coming, and as far as I could see on the Grand Concourse, there were police. So I said, the police are here, we're going to be fine."
At first the smoke kept getting worse, Donna recalled, "and I could hardly breathe. But, you know, I said OK, I'm not going to die, I'm going to bear this. But I kept the oxygen on my patient's face."
"I still stayed there beside the bed calming down the patient. And afterwards they came and they knocked on the door. And when I looked out there were like four police officers looking at me with their guns pointed."
Although the police initially told her to stay put, the New York Times reported that she soon had to venture out anyway:
After the police told her that the gunman, Dr. Henry Bello, had died, Ms. Peterkin slipped out of the room and splashed through the flooded hallways, trying to evade the water raining from the sprinklers … "Peterkin, come," a doctor screamed. "This patient cannot breathe." The patient was turning blue, said Ms. Peterkin … The fire had deactivated oxygen machines, and at least two patients on that floor were left without oxygen. Ms. Peterkin rushed to find an emergency cart and oxygen tanks, helping save the patients' lives.
Short CBS News video featuring both Donna Lee Peterkin and Kenya Blondell
"Healing becomes much easier when you heal together"
Looking back on the tragic events, Donna proved a master of the understatement. "Craziness is not new to us," she told journalists, "because we deal with a lot of emergency situations. But this was just a little bit different from what I have seen in the past 25 years."
Although nurses are used to seeing some heartbreaking things, returning to work on the scene of the carnage was not easy. "I was scared walking through the door this morning," Peterkin told the journalists, according to PIX 11. But it's also proving helpful. "I had to see my colleagues and those who got hurt. I think healing becomes much easier when you heal together."
"It was like something out of a horror movie, there was blood everywhere"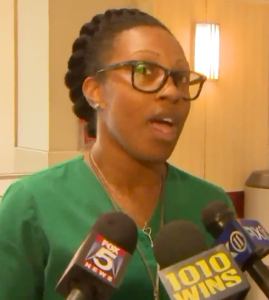 Kenya Blondell heard a doctor calling out for help — "Guys, I've been shot! I've been shot!" She was working as medical assistant on the 12th floor, where Henry Bello went berserk. "We just all ran to help him," she recalled.
Newsday quoted Kenya describing a harrowing scene. "It was like something out of a horror movie, there was blood everywhere. But we decided that didn't matter. Let's just save him." She applied pressure on his hand to stem the bleeding while other doctors and nurses rushed in. Since the elevators had been shut off, several of her colleagues carried the doctor down a stairwell while Kenya kept applying pressure to his hand, and she stayed with them as they conducted surgery.
"His bleeding was so severe, that they decided there wasn't time to make it to the first floor emergency room. They carried him to a third floor operating room instead." What she remembered most was the doctor, a gastroenterologist, pleading with them to "Save my hand! Save my hand!". For a doctor, "that is the most vital part," she said. "There was no time to think, it was just quick survival mode."
If I hadn't stopped to help a patient with his urinal, "I would have been dead"
OR nurse Amy Vargas was working with a team of doctors on a surgery "when SWAT team officers entered the room to make sure no one was in danger," Newsday reported. Amy was relieved by their presence. "I had to stay with my patient to make sure they were safe," she said, and she tried to suppress her fear and project a sense of calm. "Mentally, you have to talk yourself through it".
Theresa Aryee walked right past Bello in the doctor's station as she went to the room with two of her patients to tell them that she was about to go on a break, the New York Times reported. One of them asked the Registered Nurse if she could empty his urinal, however, and she agreed to help.
Moments later, Dr. Bello opened fire in the hallway behind her. She closed the door and stayed inside with the patients. "If I wouldn't have done that, I would have been dead," she said. "I do everything for my patients." After the commotion, she, too, went out into the hallway to help evacuate patients from the building. Five hundred patients were evacuated from the hospital that day.
The value of regular emergency drills
It was a miracle so many victims of Bello's vengeful rampage survived, despite suffering "horrendous injuries". Even 29-year old Dr. Oluwafunmike Ojewoye, who was shot in the neck, "made a remarkable recovery" and was released from the hospital within days.
It could have been so much worse, and physician-in-chief Dr. Sridhar Chilimuri argued that the hospital's regular emergency drills, conducted at least once a month, helped its medical professionals deal with the situation quickly and efficiently, even if no-one was "prepared for SWAT teams in our operating rooms". Donna Peterkin and her colleagues had just participated in an active shooter drill two months earlier, Fox 5 NY reported. "You are trained to stay calm" in situations like this, she told the journalists, and she did.
"Many of our staff risked their own lives to save patients," the hospital's vice president Errol C. Schneer emphasized, per CBS News. "Babies were delivered, surgeries continued, and that was made possible because staff stayed and did what they had to do."
A fateful last favor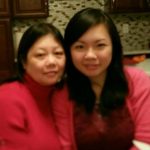 In the end, however, a wonderful woman and doctor died a pointless death far before her time. Thirty-two year old Dr. Tracy Tam was "kind, generous, compassionate," a "wonderful physician" and "the sole breadwinner for her family," Sridhar Chilimuri told the news conference. A "young, idealistic physician", she had come to the hospital straight from medical school, making a conscious decision to go there rather than pursue other opportunities because "she felt this is the population she wanted to serve".
Tracy was the kind of doctor who always said "yes" when asked for a favor, Sridhar recounted. That was even true for this fateful day. Tracy hadn't been scheduled to work last Friday. In a brutal turn of fate, she only ended up in the firing line because she had volunteered to substitute for a colleague.
A family physician who worked closely with Tracy has set up a GoFundMe fundraising page to help her family. The goal to raise $25,000 to cover the costs of her funeral was met in little over 24 hours, and at the moment donations have totaled almost $42,000.
Violence in the hospital: disturbingly common
The Bronx-Lebanon shooting was a very extreme example, but attacks against health-care workers are disturbingly common. Between 2005 and 2014, rates of workplace violence incidents increased by 110% in private industry hospitals, and there are almost as many violent injuries in the health-care industry "as there are in all other industries combined". Have you ever faced violent aggression in your workplace? How did you respond? If you'd like to share, tell us your story in the comments.