When Sister Aileen Trainor retired from her job at PeaceHealth Sacred Heart Medical Center in Springfield, Oregon, she had worked in that very same place as a nurse in various roles for an astounding fifty-one years.
Having started at St. Joseph Medical Center in nearby Bellingham in 1966 before joining Sacred Heart in 1971 — where she became "the very first nurse in Eugene to be certified in urology," mind you — she'd even logged a total of fifty-six years in total for PeaceHealth!
An entire lifetime.
These days, few of us are unlikely to ever tally up such a record. And in many ways that's a shame, because Sister Aileen demonstrated how rich an experience it can be. Everyone knew her; everyone loved her. On her last day, the local Register-Guard reported, Sister Aileen "could hardly go a few minutes without a coworker stopping to tell her how much she'd be missed". One colleague even broke out a guitar to sing her a song.
When her employer posted a video showcasing the highlights of her career, the tributes flowed in. "She made every day, every person, every encounter just that much better," wrote Cindy Clair. "She was always a bright soul … non stop laughter followed her and she always had a way of bringing out the good in people," wrote Jane Snar.
A profound sense of gratitude
Now on this blog, we have developed a bit of a habit of highlighting the amazing stories of nurses who worked until a very wise age. Kay Hodges, who at an incredible 97 (!) years old was still the Public Health Nurse for the borough of Emerson, New Jersey, five years ago. Florence Rigney, who last year retired at the age of 96 from her job in the same hospital in Tacoma, Washington, where she had gone to school all the way back in 1946.
And there's an inspiring common thread in what these nurses have had to tell us.
For some of us, the idea of working into our seventies might seem challenging at best, but for Kay, as she recounted with a touch of mischievous humor, nursing was "the love of my life, other than my husband, who was a great guy." Likewise for Florence "SeeSee" Rigney, who said: "I just feel very honored that they'll still let me work … I want to leave this Earth with my boots on".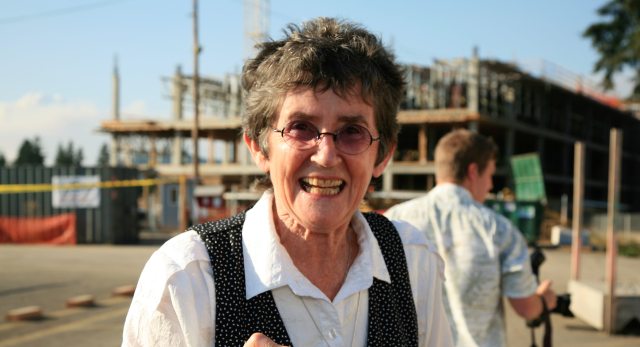 Sister Aileen is not quite the same age yet, but at 84 she has felt much the same way, the "profound sense of gratitude" she described to the Catholic Sentinel a few years ago enriched by her religious calling. "Each of us have been called to do what we've been asked to do, and it's such a gift to be able to be a care provider. I just feel so honored to have been here for as long as I have been given that gift," she says in the video.
Roller skating on the roof
Now we can't all draw on that same wellspring of faith, but we can pursue the same meaning Aileen found in care and connection… and she showed us that this doesn't have to be a serious or earnest thing at all! Because, well — when you think about a nun and a nurse, do you think, "roller skating at night"?
No?
Well, you'd be wrong:
"Early on, a sixth floor was neurology, and the patients started complaining about funny noises at nighttime. We had to fess up that we were taking turns roller skating up on the roof!"
Laughter, you see, is the key to meaning and to healing, Sister Aileen strongly believes. When she met her colleagues or patients with jokes or gag gifts, or sported a clown's red nose to make people smile, it wasn't just "about being funny," she explained at her Sending Forth Ceremony:
"It's about breaking the cycle of fear."
"Her comedy isn't for fun, it's a deliberate healing technique," the Register-Guard explained, relaying her words. "Hospital patients are vulnerable — often literally undressed… and facing their worst fears. Caregivers have an opportunity to provide some comfort."
And that's what she did, with verve. "For somebody like me, who is kind of a serious person, she just brings out that clown in you and helps you just relax and smile," said Alicia Beymer, who worked with her for 15 years.
Smile, as the world keeps changing
If there's one thing we can learn from Sister Aileen Trainor, surely it is this. To retain not just an infectious joy in our work — but to respect and cultivate that power of joy and laughter. To nourish and share it, even as the world changes around us.
Because Sister Aileen has seen a lot of change. There's a student essay that somehow made its way online that explains how she was born in 1938 in Canada, the youngest of five children in a devout Catholic family — one of her older brothers was a monsignor, another worked in a hospital too, after attending seminary. She herself only began her nursing career after studying English and history, the Catholic Sentinel noted; and joined the Sisters of St. Joseph of Peace in the mid-1960s.
It was a Roman Catholic religious order of women then; now it's "an international religious community of vowed women and associates focused on peace and social justice". When she came to Sacred Heart there were eighteen Sisters, working in all different areas; 51 years later, she was the only remaining Sister on staff.
"Have a happy heart and be a healer"
What didn't change was the desire Sister Aileen and her colleagues had to make a difference. She served on multiple governing boards, and most recently on the PeaceHealth Community Health Board. When she announced her retirement, PeaceHealth started collecting donations in Sister Aileen's honor for its Thanksgiving Basket program, which provides 800 Thanksgiving dinners to people in need.
The donations in her honor will bolster a tradition of providing meals to families in need that goes back to the Great Depression — "for a while, the Sisters even provided lunches out the back door of the kitchen to travelers seeking work in the fields of the Willamette Valley".
Sister Aileen herself is, even now, "not quite retired," the Register-Guard noted — she will "continue to put her healing powers to work" at the Sisters of St. Joseph of Peace Peace and Spirituality Center St. Mary-on-the-Lake in Bellevue, Washington. She'll know just what to do, people who worked with her said, having an "uncanny way of knowing when someone needs prayer" and when someone "just needs a touch."
In the meantime, her message to all of us trying to find our way through the nursing profession is short and sweet. "Have a happy heart and be a healer. Be kind to each other. Be there when people need you."
Amen to that.