When Terry Slinde walked into Iowa Methodist Medical Center one Tuesday morning last month to meet the person who had donated a kidney to him, he didn't know what to expect. All he knew was how grateful he was to the person who'd helped him live.
Imagine his surprise when he came face-to-face with his donor, Anna Boelman. She was the nurse who had cared for him in that same hospital when he had his first kidney transplant earlier last year, only to see it fail to take.
Terry had received excellent care during that time, he told KCCI, barely able to contain his emotions: "I was so amazed about the team that was surrounding me … I was not alone in this thing." But he could never have expected that one of those nurses would end up going beyond any call of duty in order to save his life.
After bonding with Terry during his treatment, Anna Boelman was unnerved to hear that the transplant had failed, and Terry had been put back on the National Kidney Transplant Waiting List:
I was his nurse then, so I got to know him and his wife during that time. How can you not bond with Terry?
She found herself fretting over it, asking herself over and again, "What can I do? What can I do?" She eventually settled on a momentous decision in August: "I can donate". Even then she kept her decision a secret, even as the two went into surgery on the same day last August. Terry would only find out when the two were reunited last month.
SURPRISE: A mystery kidney donor helped save Terry Slinde's life late last summer.

Turns out, this unknown person had helped him out before… https://t.co/qj9hZ3QGJJ

— Hannah Hilyard KCCI (@Hannah_KCCI) January 30, 2019
Not the first nurse donor to save her patient
Anna is hardly the first nurse to be moved to donate her kidney to one of her own patients.
A few years ago, for example, transplant nurse Allison Batson was deeply impressed by the experience of caring for 23-year-old patient Clay Taber after he was brought into Atlanta's Emory University Hospital for emergency treatment, having suffered complete kidney failure.
"Immediately when Clay came onto our unit, he became a special patient that everyone just gravitated to," Allison recalled afterwards. "Here was this young man with everything in his life ahead of him, and he was fighting for his life. He quickly became friends of many of the staff, and really was just a tremendous inspiration to us all."
Clay had been diagnosed with Goodpasture's Syndrome, a rare, life-threatening autoimmune disorder characterized by kidney disease and lung hemorrhage. He underwent weeks of dialysis and plasmapheresis at Emory. Allison, who had seen many of her patients saved by organ donations, and many others lose their lives because no matching organ was found in time, made sure to keep visiting him:
I learned more about Clay, his family, his life, what he saw for his future. He wanted to get married to his sweetheart. He just graduated from college. The whole world was his, with the exception of this incredibly rare illness that hit him out of the blue. I have children his age, and I felt the same kind of pain his mother was feeling. Something inside me said I needed to do more.
Clay's gratitude was impossible to capture in words, he recounted to Emory Report. "I couldn't believe it… Everybody I came in contact with at Emory was so incredibly nice and supportive of me, and then here was this woman who said 'If I can save your life, you can count on me.' What do you say to that?"
"I was very emotional," he told Fox News. "I know there are a lot of other people out there on dialysis and with kidney failure worse than me. The fact that Alison would do this – after no longer than six weeks knowing me – was very special. It made me feel very blessed."
Once their operations were completed successfully, their families became as one: "Smiles, tears and hugs were abundant between people who had formed an unbreakable bond over the course of the last few months, and had, in effect become extended family to one another."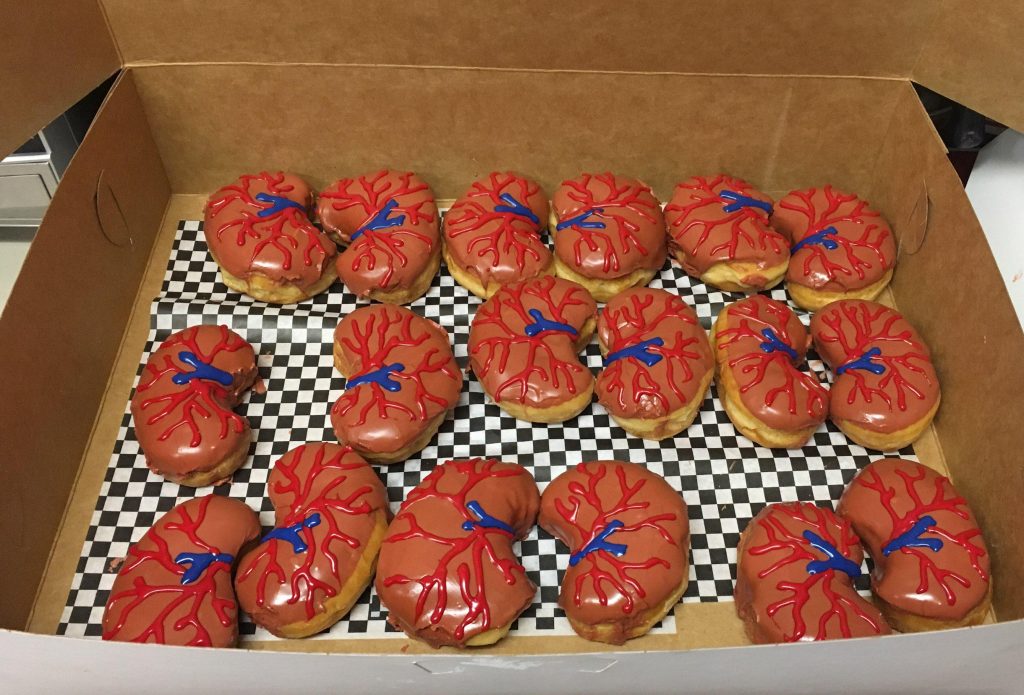 A momentous conversation
Sometimes a nurse doesn't even need six weeks. Just last year, labor and delivery nurse Lisa Schumacher walked in on a conversation at her Naperville, IL, hospital, and heard obstetrician-gynecologist Brett Cassidy tell two other nurses about how his wife's kidney was failing, and a new transplant was the only solution. That same day she decided she would offer to give one of hers.
Lisa has since befriended Brett and his wife Pam, who turned out to herself have been an L&D nurse as well. Pam was diagnosed with IgA nephropathy, an autoimmune disease, and had already received a transplant kidney before – also donated by a nurse! – only to see it fail as well. Now she was facing stark odds. Reason enough for Lisa to waste little time doubting:
"I wanted to do it. It was a time in my life to do something for somebody… I am not saying that it wasn't a big deal, but it was a no-brainer for me. It made such a difference for her".
When Naperville nurse Lisa Schumacher, left, learned that Pam Cassidy, right, a total stranger, needed a kidney, she decided to donate one of her own.

"It was a time in my life to do something for somebody." https://t.co/xCFq1ZHCSs pic.twitter.com/9tOq74VXOx

— Chicago Tribune (@chicagotribune) November 26, 2018
"We are a family here": she saved her colleague
In another notable case last year, a nurse at the University of Minnesota Masonic Children's Hospital signed up for a paired kidney exchange to save the life of another nurse – her own colleague.
Rosemary Manion and Saaid Nur had been working together in the pediatric cardiac cath lab for 13 years. When Saaid's kidneys started failing, Rosemary couldn't stand the thought of her friend and colleague facing the fear and uncertainty of life on the waiting list:
Pretty much when he told me his kidneys were failing and at some point he'd need a transplant, I thought, 'Why not me? I just felt it was the right thing to do.
Even when they found out the two nurses were not a match, Rosemary couldn't be dissuaded, and turned to her employer's paired exchange program, which connects "transplant candidates with living donors who may not be a match … with someone who is, in a sort of "kidney swap",' as the University of Minnesota Medical School explained.
Saaid went into surgery on June 12, Rosemary a day later. Their five colleagues worked extra hours to cover their shifts, and KARE11 reported that at least one of them was ready to go well beyond that: "If Manion hadn't stepped forward, at least one other nurse in the cath lab had decided to do the same". Explaining this remarkable demonstration of team spirit, fellow nurse Melissa Fetterley explained that "we are a family here," and "we all just love each other .. and step up when we need to".
A leap of faith
Altruistic kidney donations like these are an awe-inspiring leap of faith and kindness, and the stories that emerge from such generous decisions are exhilarating to hear.
"It was awesome to see how grateful he was and how much this really impacted his whole family and everyone he knew," 27-year-old transplant nurse Kate Burris told KTAR News after donating her kidney to someone she had never met in 2016. "I didn't quite realize how many people I was affecting by doing this."
Reflecting on her decision later on, she added: "It's been great for me to see and experience all of this, and it's definitely made me a better nurse. If I could do it again, I would."
Kate Burris donated one kidney to Jim Ensslin, a complete stranger. Both are doing fine now. #fox10phoenix tonight. pic.twitter.com/X9yMnL4e7N

— Dave Stermon (@DaveStermonTV10) July 6, 2016
"There is someone that needs you out there"
The one thing these stories all have in common is this: the shared message that you, too, can help.
Almost 95 thousand patients are on the waiting list for a donor kidney right now. "There is someone that needs you out there," Terry Slinde said.
"If what I do for Clay causes more awareness among others that live organ donation is a possibility, then I can only hope that other lives will be saved because of my actions," Allison Batson concluded.
Every year, some 6,000 living donor transplants are performed in the U.S., with over 2,000 of those involving donors who are not relatives or life partners. It's a big step. But should you ever consider taking it, the United Network for Organ Sharing provides much of the information one would need to make a considered decision.