If you've been a nurse for long enough, you've seen it all. Things that made you laugh, cry and roll your eyes. And a couple of things no-one else would believe!
But what's the sweetest thing that ever happened to you as a nurse?
We'd love to hear about it, and today is just the day to start asking! That's because it's National Donut Day. Yes, really – that's a thing that exists. 🙂  We love donuts – they're sweet, they're fun, and they're as American as apple pie. So we will give away a box full of donuts to the nurse who tells us the nicest story!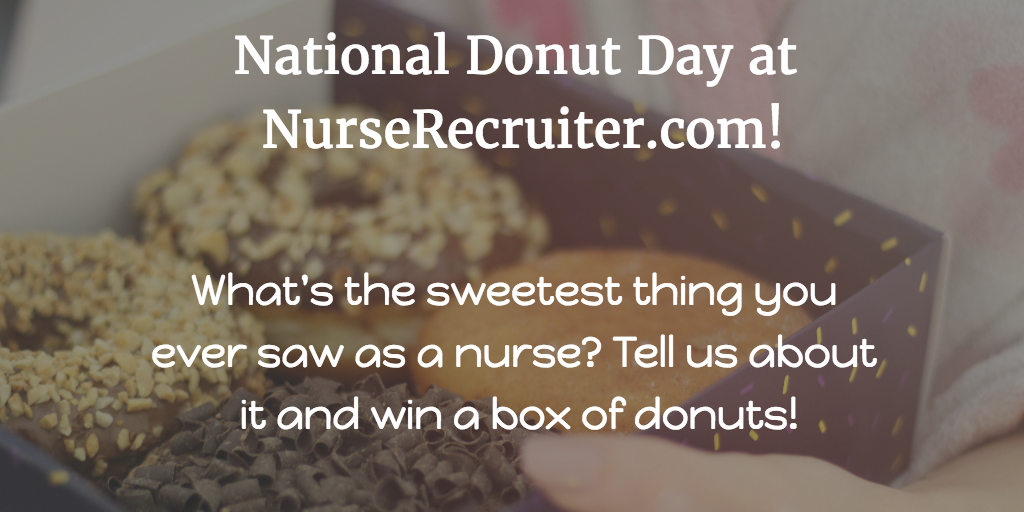 Just drop us an email at contest@nurserecruiter.com with your story and a photo of your wonderful self. If you'd like to share more than one story, that's fine too! Don't forget to tell your colleagues as well — all the more chance someone gets to bring in a box of donuts to work!
In the meantime, don't forget to take advantage of the many special Donut Day offers today. And if you're wondering what this whole Donut Day thing is about — turns out its history goes back a century to the Salvation Army's "Lassies" of World War I, who served donuts to soldiers. Who knew?
Contest rules
No entry fee is necessary to participate or win. The contest is void where prohibited by law, regulation, statute or other appropriate legal authority.
The winning story will be selected by NurseRecruiter.com.
Contestants grant NurseRecruiter.com a worldwide, perpetual and non-exclusive royalty-free license to reproduce and publish the stories and photos they submit.
Employees, agents, contractors and owners of NurseRecruiter.com and their immediate relatives and household members are not eligible to enter or win.
We cannot promise that we will have the donuts delivered by drones.