15,000 nurses are on strike for the third day running in Minnesota, and it's not just about money.

For five months, contract negotiations covering nurses in over a dozen hospital systems in the Minneapolis-St. Paul area and Duluth went nowhere, so the Minnesota Nurses Association (MNA) decided to go on strike. It's not just any strike — it's the largest strike of private-sector nurses in U.S. history.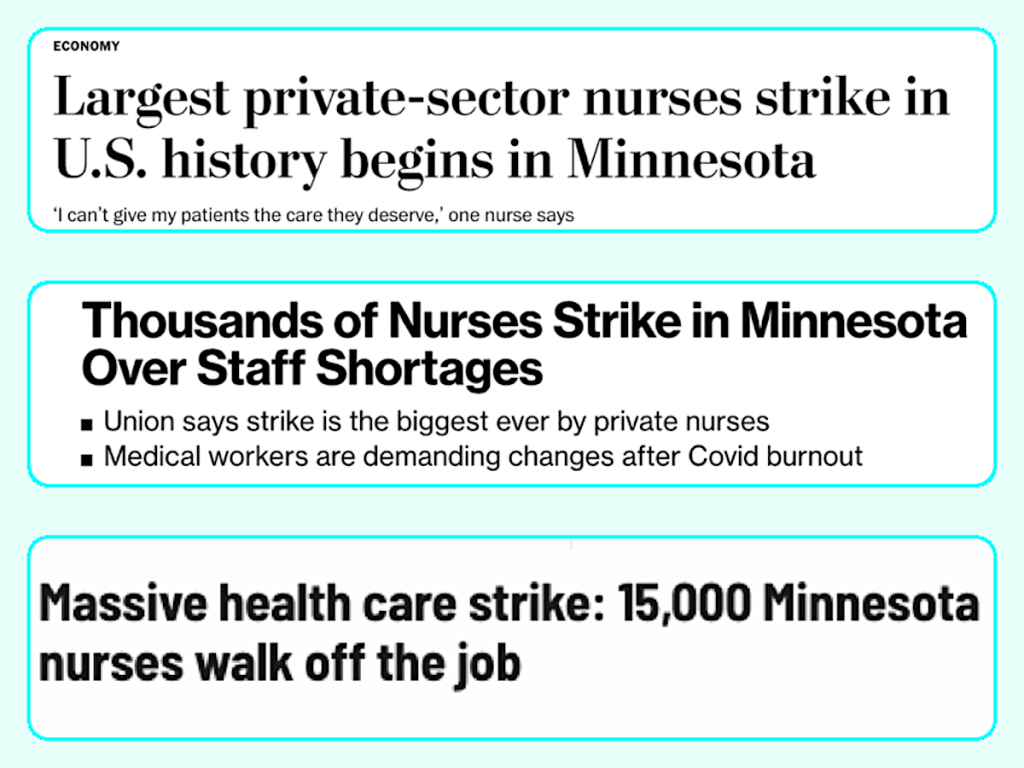 They are asking for hefty wage raises, to be sure, invoking surging inflation: a 30% salary increase over three years. But their demands go well beyond that. They're exhausted by having to work understaffed shifts, and want a role in staffing plans and changes to shift scheduling practices.
The union has proposed new mechanisms for nurses to have a stronger say in how wards are staffed, including a committee made up of nurses and management at each hospital that would determine appropriate staffing levels. It has also proposed protections against retaliation for nurses who report understaffing.
The nurses say hospital executives have refused to discuss anything other than salaries and at most improved protocols for reporting security incidents, rebuffing their other safety- and staffing-related demands. That's far from enough, they argue, when "remedying the fallout from more than two years of pandemic burnout will take more than that, and not doing so puts patients at risk".
"People just don't know how not okay things are," Brandy Navarro told CNN about her job as nurse at United Hospital in St. Paul. The strike is about being able to give patients the care they deserve, the nurses insist. "Nurses are scared for their licenses," Chris Rubesch, RN, explained. "They are scared about what they are being asked to do, doing more with less. They are concerned about the care they are giving to their patients".
Hundreds of nurses have been picketing outside hospitals. Some patients have expressed their solidarity. But the events have been a boon for the travel nurses who were brought in to replace the striking nurses, who have reportedly been paid $8,000-$10,000 for three days of work and two days of training.
The nurses announced the strike ten days in advance so hospitals could prepare accordingly, but the employers say the union had been needlessly rash. "We are disappointed the union is choosing to rush to a strike before exhausting all options, like engaging a mediator in negotiations which they have repeatedly rejected," read a statement by Allina Health. But the National Labor Relations Board refused to block the strike, dismissing some of their complaints.
The question that looms over developments in Minnesota is how easily strikes like these could spread. Thousands of mental health professionals are on strike in California and Hawaii this week as well. Last April, some 5,000 nurses staged a strike in Palo Alto, California. Thousands of nurses in Michigan and healthcare workers in Oregon have authorized upcoming work stoppages.
As we wrote in a previous blog post outlining why employers need to offer better deals that go beyond mere pay rises, "the pandemic has triggered the largest retirement of nurses ever recorded. Six in ten health care workers say the pandemic has burned them out." The Washington Post warned that "tensions remain high between nurses and health-care administrators across the country, and there are signs that work stoppages could spread to other states".
What do you think? Are the demands of the nurses reasonable? Is a strike the best way to pursue them? Could you see yourself going on strike over similar issues? Would you take a travel nursing job as strikebreaker?