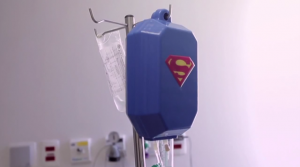 Receiving chemotherapy is no fun for anyone and can be a particularly difficult experience for children. However, international ad agency JWT Brazil and film studio Warner Brothers recently teamed up with the A.C. Camargo Cancer Center in São Paulo, Brazil to develop a campaign, "Super forumula to fight cancer," to make the experience a little easier and more fun for children:
The program was based on the idea that the first step to the fight against cancer is believing in the cure. In order to get their patients to believe, JWT Brazil's creative team worked with doctors to create a case that clips together to completely cover the chemotherapy intravenous bag. This case combined the painful medication with the magical world of superheroes and was given the name, "Superformula." The new name and look of the treatment helped to change the perception in the kids' by convincing them that the Superformula gave them their own superpower which could be used to conquer their illness.
Besides developing custom cases for the IV bags, JWT Brazil also developed a series of cartoon and comic books and redecorated the children's oncology ward to look like the Hall of Justice.
Here is a video JWT produced to demonstrate the campaign:
Are you a nurse that works with children? If so, we would love to hear about any special things you do for your patients to make the experience easier and a little more fun.