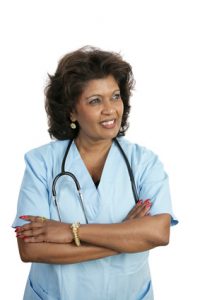 Robin Holte was an interior designer for 25 years. Then she decided to return to college and become a registered nurse. She wasn't considering job security at the time; she wanted to make more of an impact, helping people and caring for them, she says in this article on the Appleton Post-Crescent website.
The Neenah, Wisconsin resident became a nurse about seven years ago and has spent most of her new career in surgery.
While job security was not a motivating factor, Holte's career change turned out to be a sound one. The chief labor economist for the Wisconsin Department of Workforce Development says that health care jobs have remained strongest throughout the recession and recovery. Data — both locally and nationally — shows that demand for registered nurses should continue to grow through 2018 and likely beyond, as the population ages.
Additionally, there is a concern that as baby boomers retire, there won't be enough people to replace them. The oldest boomers turned 65 in 2011, so there will be a surge in retirements in the next 10-20 years.
While that is affecting the workforce, the aging of the boomers means that demand for healthcare is likely to rise as well.
Filling the need
Second-career seekers appear to be helping meet today's staffing needs among health care providers.

"We've seen a lot of people who have decided to go back to school for one reason or another," said Kristin Matthias, an employment career specialist with Appleton-based ThedaCare. "Some came in from manufacturing or some had a two-year degree who went back to complete a four-year degree for a more advanced job."

Student ranks at two- and four-year colleges across the country have grown in recent years with people in search of a new career or in need of learning new skills following a job loss.

Some colleges, including the University of Wisconsin-Oshkosh, have implemented accelerated degree programs that cater to people like Neenah's Holte.

Holte took advantage of UWO's accelerated program for nursing. She enrolled in 2003, the first year it was offered, and received a bachelor's degree in nursing two years later. Nearly 500 people have graduated from the progam since it began.

The program included one year of intense schoolwork, which required Holte to attend courses seven days a week. She also could not work, a condition of the program, but her husband and family supported her decision.

"All the sacrifices were worth it," Holte said. "I'm much happier today."

Searching for workers
Even with students pursuing a second career in the health care field, only a fraction of the need for workers is being filled.

Matthias, the employment career specialist at ThedaCare, is charged with finding qualified people for difficult-to-fill positions, including pharmacy specialists, therapists, information technology professionals, physician assistants, nurse practitioners and administrators.

"On the tough-to-fill positions, it may take up to a year to find the right person," she said, adding national searches are necessary for some jobs.

Tom Veeser, chief nursing officer for Menasha-based Affinity Health System and vice president of patient care services at St. Elizabeth Hospital, said partnerships with colleges and universities also are effective at ensuring a pipeline of qualified applicants, especially for hard-to-fill jobs.

"Affinity has partnered with UWO for exactly this purpose," he said.

"We can recruit specific students and encourage our staff to engage with them."

As health systems adopt efficiency processes based on lean manufacturing principles, Veeser said it will become imperative for people to understand how those systems operate.

"There needs to be a better understanding of how someone's work can affect a larger organization's quality and outcomes," he said. "There also needs to be more global awareness of how an individual can help make a difference in a larger organization."