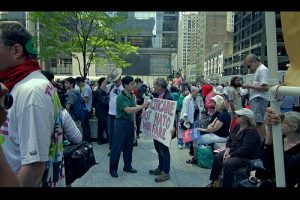 There was a large protest in Chicago today, coinciding with the NATO meeting there, designed to draw attention to a proposed tax that has been dubbed the "Robin Hood tax." It would be a .5 percent tax on banks' transactions, with the money going to help cover the uninsured. Such a tax would yield about $350 billion, according to an article in the Chicago Sun-Times.
The article profiles a nurse named Jan Rodolfo, who became committed to the cause of providing assistance to the uninsured when her cousin was shot many years ago. The cousin was uninsured and while she survived the shooting, she was paralyzed from the shoulders down and had to fight for basic rehabilitation services.
Rodolfo was 16 at the time, and is quoted as saying "Nothing will ever impress upon me how unjust the health care system is more than that moment." She went on to become an oncology nurse, and now she is the Midwest Director of National Nurses United, a union that represents about 3,500 nurses in the Chicago area.
At noon on Friday, many of those members were joined by other organizations in the peaceful protest that took place on a sun-splashed Daley Plaza. The nurses, wearing Robin Hood costumes, seek a Robin Hood tax on Wall Street. They want a small 0.5 percent tax on electronic transactions that would yield $350 billlion to pay for, in part, health care in America.

At a time when JPMorgan Chase's Jamie Dimon, a Wall Street wunderkind, is inadequately explaining at least $2 billion in his bank's losses due to risky investment strategies, Congress still shows no strong appetite for dramatic action. And the nurses' proposed transaction tax has gained no real traction among even progressive politicians.

But with Tom Petty's "I Won't Back Down" blasting from loudspeakers on Daley Plaza, the nurses have proved they don't back down, either.

Despite Mayor Rahm Emanuel's effort to move their demonstration into Grant Park, the nurses battled to stay. And won.

But their fight with the nation's wealthy 1 percent on behalf of the 99 percent will be much tougher.

Rodolfo says the nurses went to Capitol Hill not long ago and met with one lawmaker who told them, "You nurses need to lower your expectations." Not missing a beat, one of those nurses shot back, "Would you like me to say that as I'm prepping you for surgery?"

These nurses may not win.

But they're not backing down.