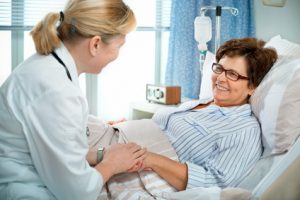 California has a strict nurse-to-patient ratio law, but since there haven't really been any penalties for failing to adhere to it, the law has been hard to enforce.
A measure to give the department of public health more authority to crack down on hospitals that don't obey the law has been vetoed by Governor Jerry Brown, according to this article in the Sacramento Business Journal.
The measure was called Senate Bill 1246 and was proposed by Sen. Ed Hernandez, chair of the Senate Health Committee. There is an existing fine structure in place that hasn't been implemented, and the bill would have both required that regulators periodically check for compliance during hospital inspections and finally start to use that fine structure.
Brown says that he does want to implement penalties, "The department will soon release proposed regulations on administrative penalties that will apply to a broad range of violations." A department of public health spokesman said that he anticipated that regulations would be completed in 2013.
Legislation signed in 2006 gave state regulators authority to impose fines for violations of California's landmark nurse ratio law, which requires specific numbers of nurses per patient in different units of California hospitals. Independent studies have shown ratios improve care and save lives.

DPH enforces nurse-to-patient staffing ratios in California hospitals under the broader umbrella of nursing service staff — and cites hospitals for deficiencies, department spokeswoman Anita Gore said. Not all deficiencies result in administrative penalties, though.

State records show that five of the 235 penalties issued to California hospitals since January 2007, five were related to staffing issues.

There are 430 hospitals in the state that operate 24/7, with all sorts of units that fall under the ration law.

An interesting sideline: While SB 1246 tried to boost enforcement of the ratio law, it was sponsored by United Nurses Associations of California/Union of Health Care Professionals, not the California Nurses Association that sponsored the landmark ratio law.

CNA backed a bill in 2011 but apparently agreed to drop it at the request of the administration that it be addressed through regulations. Union spokesman Chuck Idelson had no comment on the issue. The union has more than 86,000 members nationwide — and most of them work in California hospitals.

UNAC, which sponsored SB 1246, represents about 22,000 nurses, most of them in Southern California.

"We have the same frustration all nurses have. The department has never been energetic about enforcement," said Capell, a registered nurse and UNAC lobbyist. "You can have a hospital violating the ratio law every single day and if there is no incident where a patient is exposed to bodily harm, there are no sanctions."