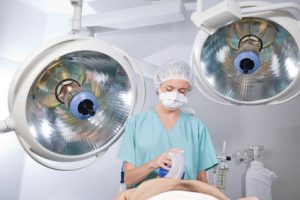 There has been more and more emphasis on increased education for nurses. It's becoming increasingly common for employers to require that nurses go back to school to receive more education. Nurses are also calling for their peers to gain more education as a way to make their voices heard.
The MSN degree — a master's of science degree in nursing — is one choice for an advanced nursing degree that opens doors to several specialties. The MSN degree is typically earned within about two years, depending somewhat on the institution and how much time the student has to devote to the degree. For working nurses who are simultaneously taking classes to get their MSN, for example, it can take longer.
Most MSN programs require that you already have a BSN (bachelor's of science degree in nursing, typically earned in four years). However there are also "bridge" programs such as RN to MSN programs where a BSN is not necessary.
Many programs offer opportunities for specialization. Some of the careers that require an MSN include:
Clinical Nurse Specialist
The role of the CNS is to integrate care, coordinating between the patient, the patient's nurse(s), and the healthcare system. The primary goal of the CNS is to advocate for the patient while also providing feedback to nurses and the healthcare system about how to improve patient outcomes in general. Mentoring is a big part of being a CNS, as well as empowering nurses in other ways.
Nurse Practitioner
Nurse Practitioners are empowered to carry out many of the healthcare responsibilities that have traditionally been carried out by physicians. NPs serve a vital function in healthcare today and their sphere of influence continues to grow. NPs can usually dispense medications, though some states require that a doctor co-sign prescriptions.
Nurse Anesthetist
CRNAs (Certified Registered Nurse Anesthetists) are similar to NPs in that they are able to fill the breach when there are insufficient doctors to go around. They tend to be especially important in rural communities — in some states, CRNA's are the sole providers of anesthesia services in the majority of rural hospitals. They are able to administer anesthesia and participate in the preparation and follow-up care for the patient. They practice in every setting in which anesthesia is delivered.
Occupational Health Nurse
This specialty focuses on prevention and treatment of injuries or other health issues that occur in the workplace. They can work for employers or the government. This specialty does not always require an MSN but it frequently does. The position has a major preventative care component as the OHC attempts to identify possible workplace hazards and prevent injuries.
Certified Nurse-Midwife
The CNM provides care to women through pregnancy and birth, as well as providing care to newborns. They also sometimes provide care outside of a pregnancy framework, providing more general gynecological care. Since 2010, all CNMs have been required to have a graduate degree. They usually attend the births of women who have been classified as "low risk." CNMs provide care in a variety of settings including hospitals and homes. They are able to prescribe treatments, medical devices, diagnostic measures and some medications.