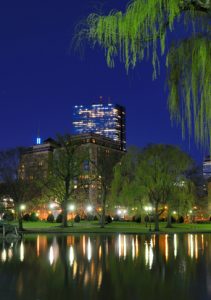 One of the oldest cities in the United States, Boston is home to some of the best hospitals in the country. Some of the best nursing jobs in Boston can be found at Massachusetts General, Brigham & Women's, Beth Israel Deaconess, the Massachusetts Eye & Ear Infirmary, New England Baptist Hospital and Dana-Farber Cancer Institute, which are all well-rated by US News and World Report, and all are ranked #1 in the United States in at least one specialty by US News and World Report.
Many Boston nursing jobs are in hospitals located on Longwood Avenue, including Boston Children's Hospital, a pediatric teaching hospital affiliated with Harvard University (located in nearby Cambridge), and Longwood Medical Center.
Nurses working in the Boston area have salaries that are high as the cost of living is also fairly high.  Staff RNs average about $66,000 per annum. Licensed practical nurses average about $46,000 per year, with CNAs averaging just under $32,000 in annual pay. All figures are from Salary.com for 2012.
For travel nurses visiting the city, there are all sorts of places of interest to see and experience, from the Aquarium to the Ballet to the Fine Arts Museum and the Institute of Contemporary Art. Plus, there's the Tea Party Museum, the Isabella Stewart Gardner Museum and the Science Museum. Sports enthusiasts will surely enjoy pilgrimages to not only historic Fenway Park but also a short trip to the Basketball Hall of Fame in Springfield, about an hour and a half away. History buffs will have fun walking the Freedom Trail, checking out the Old Granary Burial Ground and the Common, or strolling around Beacon Hill or Back Bay – or taking a trip up north to see Salem, which is about a half an hour away.
Whether residing in Boston or visiting as a travel nurse, getting around can be tricky, as the city is not laid out in a grid. Rather, it's an old port, and a lot of the neighborhoods were added later, as harbor landfill (Back Bay is one such area). There are two more or less concentric highway rings. Route 495 is farther away from downtown whereas Route 128 (in some places, this is Interstate 95) is closer. Closer to the heart of things, the main north-south roadways include Route 3, Route 93 and Massachusetts Avenue, and main east-west roads include Commonwealth Avenue, Storrow Drive and Memorial Drive just over the Charles River into Cambridge. Boston travel nursing jobs are often in the Longwood Avenue area, which is where the Back Bay area meets Brookline.
Another popular transportation option in Boston is the comprehensive public transportation system. The MBTA (called the T by the natives) consists of trolleys, subways, buses and even water taxis and ferries. Because parking in the city can often be difficult or expensive, public transportation can sometimes be the only viable option. Longwood Avenue, for example, is directly on the green trolley lines D and E, and is also accessible via the #8, #19, #47 and #60 buses.
Housing is more expensive the closer you get to the center of things. Homes and apartments located directly on trolley lines can sometimes be very small. Many homes have been converted to two- and three-family units and walkup apartments can be made available, which might be the best option when travel nursing. There is often a marked difference in prices among housing choices in the city limits, within the 128 circle or within the 495 circle.
Educational opportunities are plentiful, as Boston is the home of a dense concentration of excellent colleges and universities. Nursing programs are available at (among others) the University of Massachusetts at Boston, Simmons College, Fisher College, Northeastern University, the Massachusetts College of Pharmacy and Health Sciences, Emmanuel College and Boston College.
For culture, history, arts and jobs in nursing, Boston is tough to beat. Just don't call it Beantown.