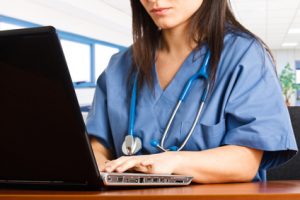 Is specialty nursing certification necessary? What are the benefits? Must an RN be certified to compete for jobs?
These are some of the questions addressed in this article on Nurse.com. There is no question that specialty nursing certification has become increasingly popular. The American Nurses Credentialing Center reports that more than 250,000 nurses and more than 80,000 advanced practice nurses have received certification from them since 1990.
While specialty nursing certification is voluntary, studies have indicated that it has potential benefits that include increased job satisfaction. The article quotes a nurse as saying that after she received certification, "Physicians seemed more respectful of my opinions."
It is not yet clear whether certified nurses earn more. One study found that registered nurses who hold certification in a specialty area earn $7,300 more a year, on average, than uncertified RNs. But then another recent study found that there wasn't a high correlation between salary and certification.
One nurse manager interviewed for the article said, "Certification is definitely a plus when I am reviewing nursing applications for my unit and the candidates are otherwise equal." She said that almost half of the nurses on her unit have certification in critical care or progressive care nursing. She says that certification also seems to make families feel more confident about a nurse's ability to care for their loved one.
Indeed, certification may lead to improved patient outcomes. A study in the June 2011 issue of the Journal of Nursing Scholarship shows a link between nursing specialty certification and better clinical outcomes, including lower inpatient mortality. Other studies have found that certification is associated with fewer medical errors, according to ANCC.

"Certification indicates your commitment to patient care. It's something nurses are very proud of," ANCC's Swartwout said.

An ongoing study should shed more light on whether certification affects clinical outcomes. The American Board of Nursing Specialties is sponsoring a study of trends in specialty certification of RNs in acute care hospitals and the connection between certification and specific patient outcomes. According to the ABNS, the research project uses the National Database of Nursing Quality Indicators.

How to search for a certification program

Nurse experts recommend the following steps in beginning the journey toward certification:

• Ask advice from a board-certified colleague or supervisor.
• Search your specialty nursing organization's website. It may have a certification link.
• Search among the member organizations of credentialing bodies. Those for nursing certifications include the American Board of Nursing Specialties and the Institute for Credentialing Excellence.
• Search certification review materials. At PearlsReview, a subscription-based collection of nursing specialty certification reviews from Gannett Education (PearlsReview.com/courses.aspx), each specialty review page contains links to the certifying organizations for that specialty's exams.

What's standing in the way

Despite the benefits, most U.S. nurses are not certified. Among the barriers to pursuing nursing certification is the cost of the exams, an ABNS survey found in 2006. Initial certification exams in 2011 typically cost several hundred dollars or more, although discounts are available for members of the board's affiliated nursing organizations, such as the American Nurses Association for ANCC exams.

Nurses also must meet eligibility requirements, which vary by certification. Generally, licensed RNs must have a certain amount of nursing experience and clinical and continuing education hours to be eligible for ANCC specialty nursing certification. For instance, ANCC criteria for certification in med/surg nursing requires candidates to have worked two years as full-time RNs and have 2,000 clinical hours and 30 continuing education hours in the field in the past three years. Other organizations may have no continuing education requirement. Eligibility criteria to sit for the CCRN certification exam from the American Association of Critical-Care Nurses Certification Corp. include 1,750 hours in bedside care of acutely or critically ill patients during the prior two years, with no requirement for continuing education. Advanced practice certifications have educational requirements as well.

Study guides

For some nurses, the concern is how to find the time and discipline to study for the exam while juggling work and family responsibilities. Nurses can make their study goals more attainable by studying over a longer period, Saxton recommended. The ANCC suggests about six months of study before taking the certification exam.

However, ONCB's Lasley said how long to study is an individual matter and that some orthopedic nurses have found six weeks is enough time to prepare for the ONC exam.

Saxton suggested a peer study group to prepare for a board exam. "Having a support system helps nurses achieve their goal. It gives them accountability," she said.

Finding a mentor also is recommended. Some certifying programs and specialty nursing associations have volunteers who help peers through the certification process, such as the ONCB's certification mentors called Ambassadors.

Review seminars are available at hospitals and nursing schools across the country as well as online sites including NurseCredentialing.org for some ANCC specialty certification exams. The credentialing center gives applicants a 90-day window to take the exam after deeming them eligible.

ANCC nursing certifications are valid for five years before requiring renewal. Swartwout said most nurses renew their certification through professional development rather than testing.