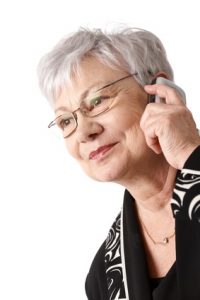 An article in the New York Times explains a new type of health care practice called accountable care organizations, or A.C.O.s
The article takes the case of Fannie Cline as an example of how A.C.O.s work. Mrs. Cline, a 69-year-old retiree, was struggling to manage her Type 2 diabetes, suffering setbacks like dizzy spells that were bad enough that she had to go to the emergency room.
Things changed for her last May when she started to get calls from a registered nurse and care manager at Advocate Health Care named Gwilie Lloyd. Ms. Lloyd checks on Mrs. Cline and does things like provide advice on diet and exercise, schedule appointments, and order meals for delivery.
Since then, Mrs. Cline has been doing much better. She hasn't needed hospitalization again, and is more active and social, spending her days visiting friends.
"It is nice to have someone call you in between your visits to the doctor's office to see how you are," Mrs. Cline said. "If my blood sugar is elevated and I feel off balance, she will ask me what I have been eating lately. She might say, 'Maybe you need more oatmeal or fruit.' "

The extra attention Mrs. Cline receives is the result of a radical departure from traditional fee-for-service medicine.

Advocate runs one of the nation's first and largest accountable care organizations, a new kind of health care practice gaining momentum in part because of the Affordable Care Act signed into law two years ago by President Obama.

A.C.O.'s, as they are known, are collections of medical providers who band together under one business umbrella. The organization can include primary care doctors, specialists, social workers, pharmacists and nurses. The difference is in how these providers are paid: Instead of an insurance company or the government reimbursing each provider for each service provided to each patient, the A.C.O. is paid simply to care for a group of patients.

If the organization can reduce the cost of caring for the patients while maintaining their health, it gets to keep and divide up some of the savings — a powerful incentive to do things differently, experts hope. But if the A.C.O. cannot meet quality measures and costs rise, the providers in the organization may well receive lower payments.

The A.C.O. may strike some critics as a worrying repackaging of the H.M.O. in its earliest incarnations, but there is little doubt that more Americans will be enrolled in these provider groups in the coming years. "A.C.O.'s are coming, and it will change the way we pay for health care," said Dr. Michael Cryer, national medical director for the employee benefits consultancy Aon Hewitt. "Providers are doing things in a positive way rather than a reactive way. We are seeing the beginnings of a tsunami."

For the past year, Advocate has cared for more than 200,000 patients insured by Illinois Blue Cross plans, and so far the A.C.O. has managed to reduce hospital stays and overall costs for patients, according to Steve Hamman, vice president for network management at Illinois Blue Cross. Advocate, like other A.C.O.'s, manages to do this in large part by hiring people like Ms. Lloyd to better coordinate patient care.

Care managers exist outside of A.C.O.'s, but they are particularly important in this new health care setting. Care managers keep patients like Mrs. Cline out of expensive hospitals by reminding them to take their medications, helping them to eat properly, and troubleshooting logistical problems that elderly and sick patients often encounter.

"A care manager may care for up to 150 patients, and the savings from keeping these patients healthy, and potentially out of the hospital, pays for their salary several times over," said Dr. Lee Sacks, chief medical officer at Advocate. "But it's more than just the economics. It's the right thing to do."