7 states. 122 nurses. And counting!
During Nurses Week, NurseRecruiter promised to buy two nursing teams a free pizza lunch or dinner every day. We're all about team spirit, so we loved to see how many of you reached out to get your whole unit a nice surprise!
We got in touch with winners from Phoenix to Philadelphia. So far, we got to deliver 44 pizzas — or 352 slices if you want to get into some real detail — and we'll still be sending a few more to one of the winners who preferred a later date.
It's such a great feeling to see and hear from teams from around the country, and get a glimpse of the stories each unit has to tell. Of course, we'd love to get you —well, let's see… more staff, shorter hours, more resources, better ratios… for starters! But for now, we got you promising employment opportunities and free pizza. 🙂
"We work with the strongest, resilient fighting preemies!"
Emily Nieto nominated her level 3 neonatal intensive care unit at the Northlake campus of Methodist Hospitals in Gary, IN. "We work with the strongest, resilient fighting preemies!!", she wrote, adding that "our unit has the best teamwork that makes the dream work. We also love pizza cause it gets us through our long shifts!"
She showed some of that teamwork herself, by responding to our call a couple of days in a row – and while Emily didn't tell us, it turns out she was Employee of the Year at Methodist Hospitals just last year!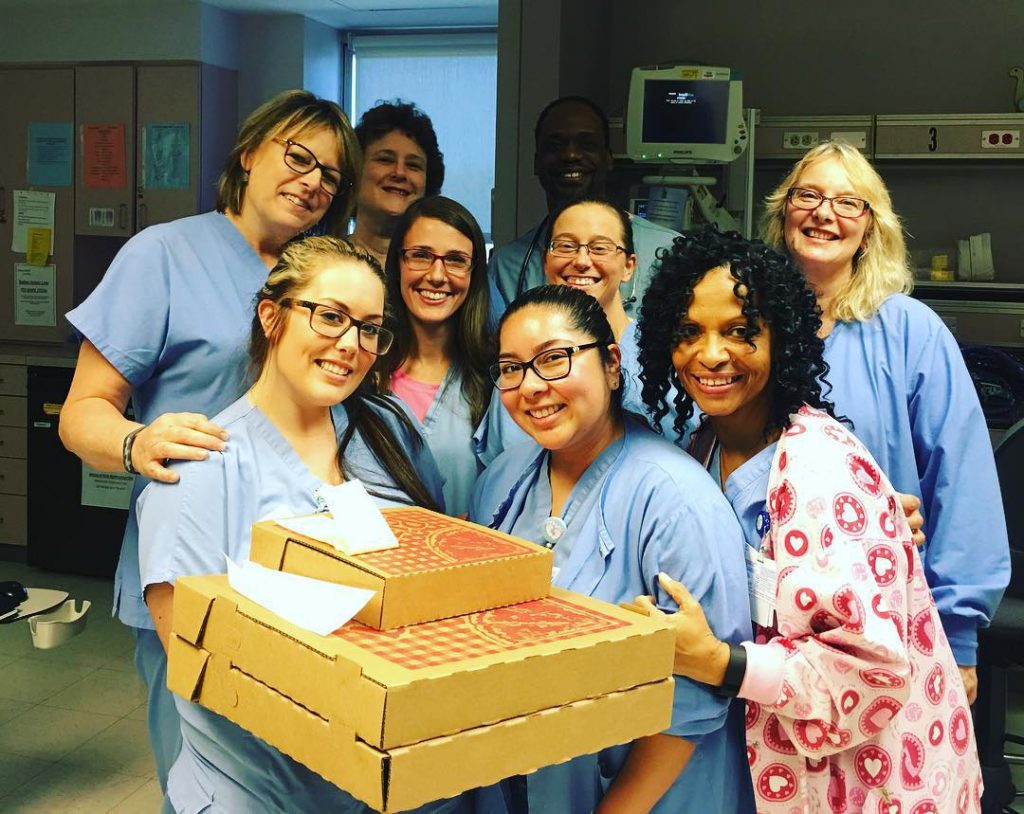 "We are short staffed and worried but we are a TEAM"
These night shift nurses at Highlands Medical Center in Scottsboro, AL, really deserved their pizza (and don't worry, they got more than one!)
More than 25 people at their facility were recently laid off, Shaina Arnold had written us. The reasons why the cuts were necessary, the facility's CEO has argued, include reduced Medicare reimbursement rates, Alabama's decision not to expand Medicaid, sequester cuts and an increasing number of uninsured patients. "We are short staffed and worried for our jobs, but we are a TEAM and regardless of what our numbers are and what are patient:nurse ratio is, we all work so wonderfully together to get the job done," Shaina wrote. And a pizza party "makes everything okay," she added. "If only for a moment because you know that call light or bed alarm is about to go off!" 
Selecting her team as one of our winners was obviously the very least we could do! "Thank you so much!", Shaina wrote back afterward. "We were able to enjoy dinner with minimal interruption tonight!" Now there's the kind of colleague any nursing unit needs!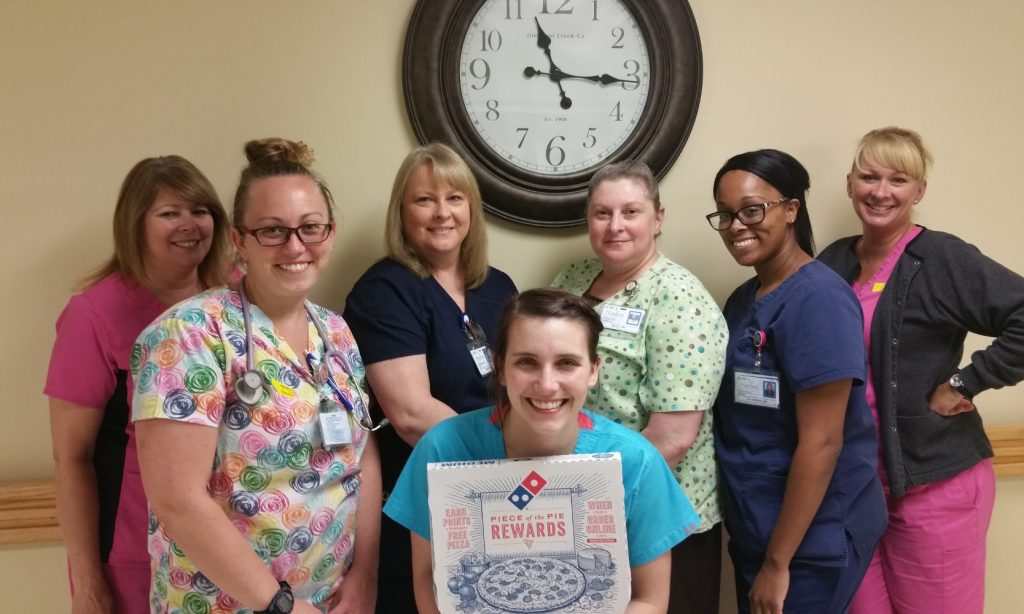 Bringing a big team together
So many great nurses!
Jody Eaton works with the St. Louis County Public Health Nurses in Duluth, MN. "Love my team!," she wrote, and added: "We could use the pizza because sometimes we work odd hours serving our community and we would appreciate lunch together". We were very happy to help create the opportunity. Here are some of the 32 of them, enjoying their shared break and free pizza!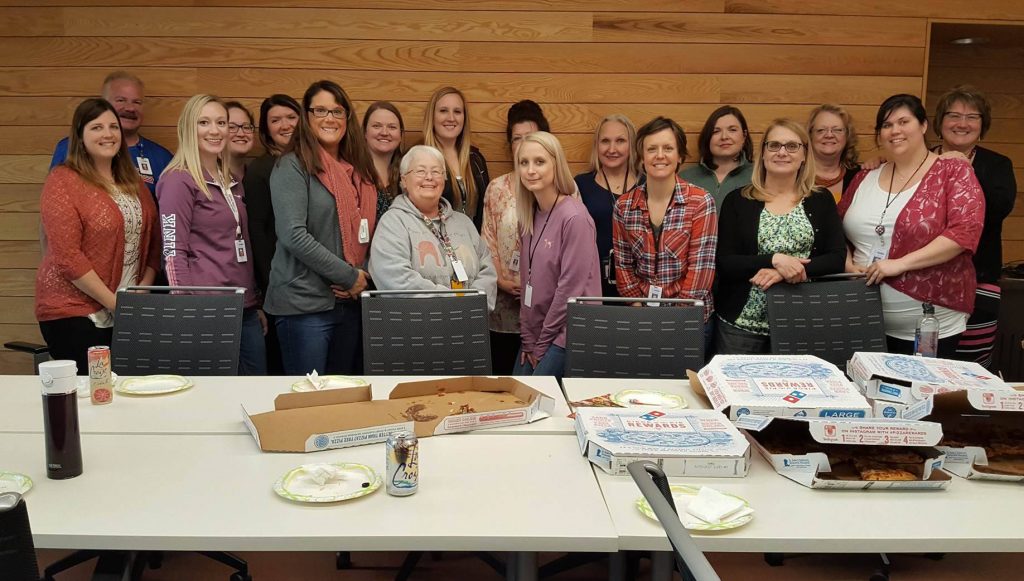 Nurses Week at the ICU
X-Large pizzas for a great nursing team! Angela Cleghorn at the ICU at Jeanes hospital in Philadelphia was the very first nurse to respond when we first announced our Nurses Week pizza party giveaway. "Please feed us!", she wrote, and we were glad to oblige!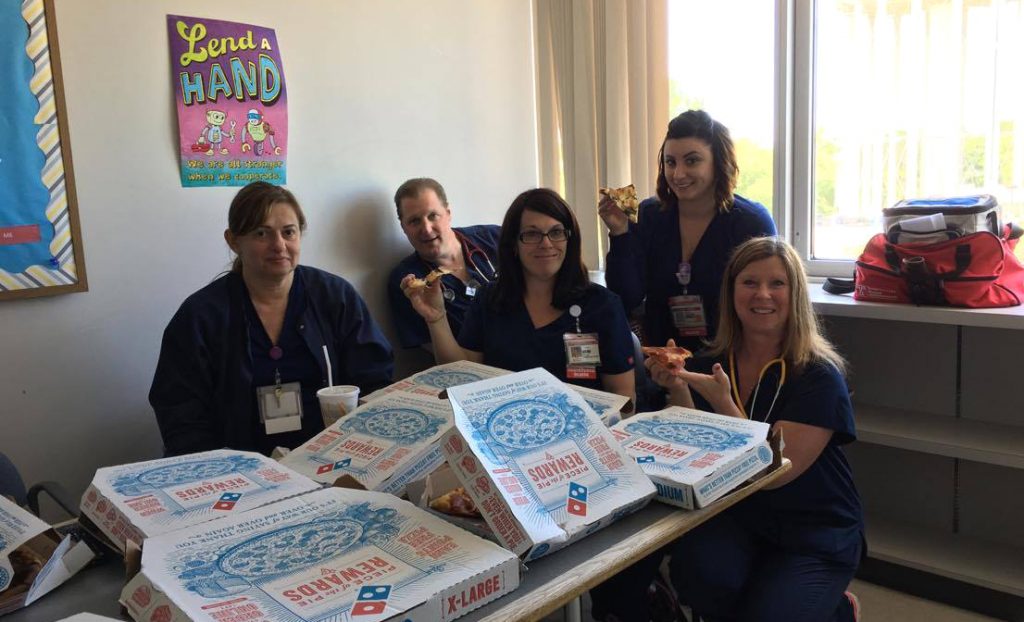 "Team Willowbrook Rocks!!"
National Nurses Week is about celebrating the work nurses do, and that's what Liz Reece wanted to do. She's Admissions Coordinator at Willowbrook Nursing and Rehabilitation in Nacogdoches, TX, and wrote us:
My nursing staff deserves pizza for going above and beyond continuously for our residents and community. This is the chance for acknowledgment of appreciation that they truly deserve, so help me put a bigger smile on their face!! Team Willowbrook Rocks!!
Free pizza for her team of 20, it was!
"Our night shift often struggles with what to eat"
Working nights in a small town has its disadvantages! Pamela Rudolph from the Intermediate Care Unit at Walker Baptist Medical Center in Jasper, AL, laid out the problem:
"Our night shift often struggles with what to eat, mostly because the same fast food joints are all we have to choose from in this small town. And who has time to make dinner before a 630p to 730a shift if you've already worked one or two this week!? We would sure like a pizza party!!"
Understood! We know, we know: pizza is only a little more healthy than fast food… But night nurses on long shifts deserve a break!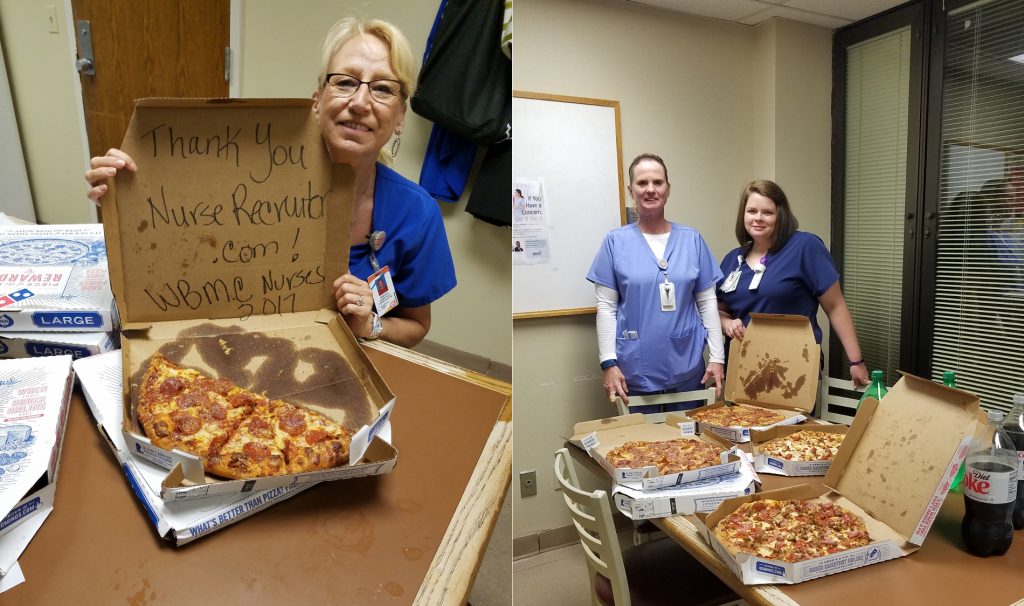 Under pressure
Amber had a straightforward message for us, on the first day of our giveaway: please send pizza. She works at Planned Parenthood in New Mexico, and "due to protestors we cannot ever leave to get lunch". That's just not right.  So we sent her and her colleagues some pizza, and she wrote back: "You just made us the happiest Nurses EVER!!"
Hospice of the Valley
Sylvianna Anderson nominated her colleagues at Hospice of the Valley, the Palliative Care Unit of St. Joseph's Hospital in Phoenix. "Thank you, NurseRecruiter.com, for lunch!", she wrote us afterward. "It was de-lish!"