Nurses~4~Nurses – Volume VII Number 3 – September 2006
Hi everyone, and I hope you're doing well.  Schools back in session and life is getting back to normal as we move in to the fall months.  As I noted in our last issue, you can look forward to some exciting changes to NurseRecruiter.com over the next few months and we're very excited.  Not only will you see a new design, but great new features and services are coming your way.  Here's what we've added since our last newsletter:
Salary Wizard – now NurseRecruiter.com is an even more powerful tool for both the employers and the nurses that use our site.  You can easily determine if you're salary offer is in the appropriate range.  We've partnered with the biggest name in online salary services and we provide the basic services to you free of charge.  Click the link above to see how your salary compares with the national average or in your general location.
Employer Registration Form – After seven years, our employer registration is now a fully automted process.  Now employers can register and begin posting ads on our site immediately.  This helps us to streamline our process, keep our ad pricing down and provide greater levels of customer service to both the nurses and the employers that utilize our site and service.
New talent.  I'd like to introduce all of you to Adam.  Adam will be working along with Corey (our long-time programmer) to help bring about the many changes you can expect to see throughout the last quarter of this year and early in '07.
I hope you have a wonderful fall and I'll see you again next month.  As alway, please remember to be good to yourself.  God bless,

Pat Mahan
Founder
HEADLINE NURSING NEWS
NCSBN Transition Meeting
9/22//2006 – Pat Mahan, NurseRecruiter.com
The National Council State Boards of Nursing will convene a group of expert speakers and panelists to begin the process of developing model regulation for transitioning students to licensed nurses.  Recent research has shown that the majority of new grad nurses are not ready to begin practice in a real-world setting.  The meeting is scheduled for February in Chicago.  At least one state has already developed regulations requiring new graduates complete an internship program before being eligible to sit their NCLEX exam.  This can have serious problems and is not the currently accepted medical model.  NurseRecruiter.com will keep an eye on this story as it develops and keep our subscribers well informed.
CDC's New Guidelines for Routine HIV Testing
9/21/2006 – Michael Smith, Senior Staff Writer – MedPage Today
In an well written articel, Michael Smith from MedPage Today spells out the new CDC recommendations to make HIV testing a routine part of health screening.  Ready the pros and cons.  Click here for complete article.
Stem Cell Hope for Eyes
09/21/2006 – Delthia Ricks, Staff Writer – Newsday
Well here we are, just a couple of months after being told by stem cell researchers that therapies are years away, and the news from the scientists from the University of Utah:  they have successfully treateed rats with the human equivalent of macular degeneration with human stem cells and cured the rates.  Click here for the complete story.
Who Says What's Best
9/3//2006 – Bernadine Healy, MD – US News and World Report
Dr. Healy makes some great points on limitations of evidence based practices being the sole way we make decisions.  While I'm a strong proponent of evidence based nursing practice, Dr. Healy brings to mind areas that need to be of concern to clinicians.   Click here for full article.
The Go To Place for Research Information
9/22/2006- Pat Mahan, NurseRecruiter.com
Need to know the facts?  Want to know the latest and greatest.  The other day I was talking to a colleague who is not very Internet savvy, but she's learning.  At any rate, I was surprised to learn that she had not yet discovered one of the greates online resources for healthcare professionals.  So I wanted to make sure I shared with you too, this is a site you want to add to your favorites:
Agency for Healthcare Research and Quality
(formerly the Agency for Healthcare Policy and Research)
The site is divided in to eight primary information sections:  Clinical Information, Funding Opportunities, Research Findings, Specific Populations, Public Health Preparedness, Consumer and Patients, Data and Surveys, and Quality and Patient Saftey.
Travel Nurses Wanted!
NurseRecruiter.com has dozen of travel nurse companies that want a chance to make you their best offer.  Make it simple for yourself to find the best rates and locations, fill-out one online form and hear from many employers with our free travel nurse broadcast system.  Click here to send your free travel nursing inquiry form.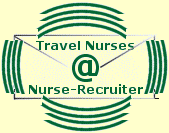 Special Feature:  IS THERE REALLY A NURSING SHORTAGE?
9/22//2006 – Pat Mahan, NurseRecruiter.com
The short answer is no!  There is not a nursing shortage in the U.S. though many power players in the nursing industry are working over time to make you and the public think otherwise.  Unlike the nursing shortages of the past, this nursing shortage is composed of a multi-factoral, playing with the numbers.  The real problems in declaring this nursing shortage is that it is an inaccurate assessment.  If the assessment is wrong, so too will be the plan.
First, let's take a look at how they're coming up with the definition of a nursing shortage:
They're only counting nurses that are providing bedside nursing care.  There are just over 2.9 million registered nurses currently licensed in the U.S., but too many have left the "traditional" nursing role.
They are not counting the nearly 1,000,000 LP/VNs in the United States that have been providing skilled bedside nursing care since the early 1940's.
The latest trend to mandate nurse patient ratios, that too often look at just the numbers and don't consider acuity in the ratio.  This too is wrong.
Now before you send me an email, let me make sure you're undestanding my position.  There is not a nursing shortage, but there is a shortage of nurses willing to provide bedside care.  I see this as an even bigger problem than a simple nursing shortage and the fix will be much harder to indentify.
It is important to clarify the situation so we get to the right solution.  Let me use an anology to make my point.  Let's say you're car won't start.  It appears as though the battery doesn't have enough power so you get a new battery.  You install the new battery (now you know you have enough power) but the car still doesn't start.  What's the problem?  That battery cable is fraid and isn't providing the connection needed to get enough power to meet the cars needs to start.
In the analogy, enough power represents the total number of nurses currently available and licensed in the U.S.  The new battery represents adding more nurses to the mix.  The fraid cable represents the fact that nurses are disconnecting from the historic bedside care role that has marked and made our profession.  So, simply adding more nurses will not fix the problem, the disconnect will still be there.  Yes, adding more nurses can minimize the problem, but it would be like fixing the cable with electrical tape rather than getting a new cable and fixing the problem the right way.
How does one fix the problem?  Well for all the years that I've been in business, I still use the nursing process to solve the problems.  We need to Assess, Plan, Implement and Evaluate.  The point of this article is that we have a flawed assessment.  And that is simply a fact.  There are 2.9 million RNs and nearly 1,000,000 LPNs in the U.S.  We need to assess why it is they are not providing traditional bedside nursing care.  What it will take to get them back at the bedside in quantity sufficient to meet the nursing care needs of our communities.  How to keep those that are providing care in their positions.
Why aren't we talking about that?  Well, primarily it's because the solutions will be harder and likely it will be much more expensive.  Traditionally we let politicians and big business rule the provision of healthcare.  Did you know that even Newt Gingrich has come out saying the providing healthcare to everyone is a "moral issue".   Now I certainly don't agree with most of his plan, but he is absolutely right on that point.  And providing bedside care is a moral and fiscal issue for nurses and nursing to consider.  To do that, we must call on the nursing leaders to get the assessment right.  Quit trying to scare the public and legilsatures, they're not going to make the right decision, history is repleat with the evidence to support that.  Let's apply the science of evidence based practice to this practice issue.  In order for the problem to be fixed, we must first clearly and accurately identify the issues and then declare a diagnosis and plan.
---
Follow-Up
As a follow-up to the article in the July edition of Nurses~4~Nurses, the bill that required a 1:5 nurse to patient ratio in MA was defeated.  As you know, we came out, along with many nursing organizations against the proposed bill in MA.  The primary problem with the bill is that is was a simple cookie cutter solution that did not take in to consideration the complex nature of nursing care and the varying degrees a care required by patients.  So congratulations to the MA legislature for getting in right.  Look to the experts to help you draft legislation that will make sure the patients in your state get adequate nursing care.