SITE NEWS
Hi everyone, hope this newsletter finds you doing well and enjoying the summer months.  Albeit the heat is really on these last few days.  Well I guess it beats all the hurricanes of this time last year.
We have some very exciting changes coming to NurseRecruiter.com in the next few months so stay tuned for more information.  We also have a new phone number for those of you that need to call us, you can dial 1-877-JOBS-555 (1-877-562-7555).  To contact us by e-mail, please write info@nurserecruiter.com.
As a quick reminder for our travel nurses, use our free broadcast service to get fast offers from all of our travel nursing advertisers.  We suggest that you make out a questionnaire sheet with the most important issues for you.  Then when you talk to the companies it will allow you to do an objective assessment of locations, benefits, salary offers and any other items that are questionnaire.  The winter months are fast approaching so it's time to make your plans for those warm winter destinations or great ski locations.  To use our free resume broadcast, click here.
Just as another quick site reminder, don't forget to sign-up for our JobsAlert Search Agent.  Search agents are a great tool.  You tell our software about the type of job you're looking for and when a matching position is posted to our site you get an email with a link directly to that job posting.  The information is never shared with employers, you're entirely in the drivers seat.  It's just a great service and of course it's free!
I do hope you have a great summer and as always I just cannot thank you enough for all your support of our site and services.  Remember always to be good to yourself.

Pat Mahan
Founder
HEADLINE NURSING NEWS
NCSBN Landmark Nursing Education Research
06/30/2006 – Pat Mahan, NurseRecruiter.com
The National Council State Boards of Nursing has recently provided preliminary results of one of the most comprehensive nursing research projects ever conducted on nursing education in the United States.  The information was presented at a recent nursing educator conference and will be available to the general public very soon.  The results were very interesting and you can expect to see recommendations coming soon on those results.  We are not yet permitted to share the results as they have not been officially published, but you may want to keep an eye on the NCSBN website by going to www.ncsbn.org.
Computer Keyboard Contamination
6/06 – Pat Mahan, NurseRecruiter.com
The case for good hand washing has been proven again.  In a research study released in April of this year, computer keyboards were found to be able to sustain some bacterial growth for as long as 24 hours.  Given the trend for electronic records, nurses and other healthcare providers must keep in mind good hand washing technique both before and after patient and computer contact.  Researchers found that MRSA and VRE could live for 24 hours on a computer keyboard.  Also tested was Pseudomonas aeruginosa which lived only one hour, but that's still plenty of time for cross-contamination to occur.
Can LPNs Help The Nursing Shortage?
07./2006 – American Journal of Nursing
In this month's issue of the American Journal of Nursing, many registered nurses may be surprised to find an article indicating that LPNs can help alleviate the growing nursing shortage in the U.S.  Utilizing a research study on LPN Supply and Demand, Dr. Jean Ann Seago, et. al. found it possible but complex.  Click here for abstract.
Stem Cell Therapies Still Years Away
7/18/2006 – CNN
Researches say that stem cell therapies are still years away.  This due to issues surrounding the controversial way that stem cells are harvested.  This CNN article looks at both the pros and cons and the controversial issues surrounding this research.  Click here for full article. (Late news of course, the U.S. Congress passed a bill to increase funding for stem cell research, the President vetoed the bill and the Congress was unable to override the veto.)
Harvard Research Shows Obese Teenage Girls at Risk For Middle Age Death
7/18/2006 – Rob M. van Dam, PhD; Walter C. Willett, MD; JoAnn E. Manson, MD; and Frank B. Hu, MD ; Annals of Internal Medicine
Using data from the Nurses Health Study II and 12 years of follow, researchers from Harvard School of Public Health found that 18 year old with with even moderately high adipose tissue had increased mortality at early and middle-age adulthood.  Click here for the abstract.
Travel Nurses Wanted!
NurseRecruiter.com has dozen of travel nurse companies that want a chance to make you their best offer.  Make it simple for yourself to find the best rates and locations, fill-out one online form and hear from many employers with our free travel nurse broadcast system.  Click here to send your free travel nursing inquiry form.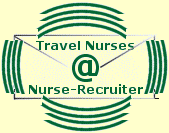 Special Feature:  NURSE STAFFING RATIOS A Cookie Cutter Won't Fix The Problem
The Journal of Practical Nursing
The Journal of Practical Nursing has been the voice of licensed practical and vocational nurses, PN educators, and PN students for 56 years.  It is the only professional journal for practical and vocational nursing.
JPN is published by the National Association for Practical Nurse Education and Service, Inc., serving the practical and vocational nursing community for 65 years.
Each issue contains continuing education, and information on practice, regulation and education.  This is the most important title in the library of any LP/VN.  Order your subscription today!